Building a fire department COOP: A guiding light in an operational storm
2020 proved the importance of building – and updating – thorough continuity of operations plans for fire departments
---
One year ago, we knew something was brewing but had no idea on what scale and how long we would be working outside of our normal operations. It ultimately became a year of so many trials – and so many firsts – for fire departments.
One of the firsts for our department was relying on our continuity of operations plan (COOP).
Many departments have COOPs, but I'll bet most of us didn't expect to go searching for them last year, pulling them out like playbooks to call the next play on the field.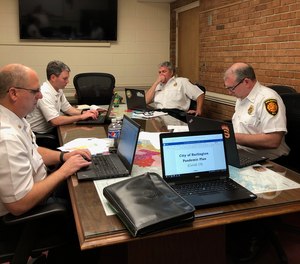 I had written our department's COOP five years ago thinking it would sit on the shelf and collect dust along with other books and mementos on my bookshelf. But much to my surprise, we referenced it multiple times throughout 2020 for various strategic planning and event needs, and we continue to pull it out for reference as the pandemic drags on.
Our COOP is like a master preplan for our department. It provides guidance for station relocations in the event a station has to be vacated for any variety of reasons, suggestions for how to operate in the event of technology becoming unreliable, and recommendations for operating during a pandemic, which, as predicted, creates a reduction in staffing.
As fire service leaders, we proactively compile preplans on various structures and hazards in our territories and envision all of the worst-case scenarios that could happen. We are firefighters; it's just what we do. We are good at looking around us and preparing, training and rehearsing for the "big one." But how often do look at our departments in the same way? How often do we preplan department contingencies?
In 2020, we had to break out our COOP to create a game plan in the case of staffing deficiencies due to employees out sick, either with COVID-19 or out caring for a loved one. The difference between staffing shortages in a pandemic and other times is also that mutual aid is not going to be available, as everyone is suffering the same plight.
This requires out-of-the-box thinking about how your jurisdiction will be covered. It is not as simple as "normal times," as additional overtime of employees places additional stress on them, and can lead to cross-contamination of shifts if an employee does contract an illness – a situation many departments experienced over the past year.
Additionally, 2020 saw social unrest erupt in many of our cities, creating more unique operational circumstances. Our department experienced a time when, for precautionary measures, our personnel vacated a station and relocated to an alternate site identified within our COOP. This action was done on short notice, but having a plan in place helped crews execute it seamlessly.
There are various templates available to compile a COOP. FEMA, for example, has excellent templates available. Templates offer a base plan for building a lineup of personnel who can fill roles as vacancies arise, to plans for more complex problems that require decision matrixes to guide each agency or department through a time where normal operations are interrupted.
When our COOP was written, it incorporated a variety of templates to create a document that was functional for our department. Hazards that are likely to impact our department were identified, as were low-probability hazards, such as a pandemic.
In creating or updating your COOP, it is also smart to update department inventories of mundane supplies and vendors. As so many of us experienced last year, numerous basic items, such as toilet paper and cleaning supplies, suddenly became challenging to find, as did some food items. Fortunately, our COOP identified vendors for additional fuel, medical supplies and even oxygen, but like many, we did not have additional sources for basic items, such as the aforementioned toiletries.
It is imperative that your department's COOP be a living and breathing document that goes beyond a simple backup of phone numbers to provide a map for how to operate.
As 2020 has showed us, we must be prepared for any obstacles. Again, in the fire service we think we are prepared for any incident that can come at us, but sometimes those incidents are bigger than us. This is where a thorough COOP can make the difference in continuing our services to our communities or missing an alarm due to unforeseen circumstances.
We typically feel confident in our response to emergencies in our communities. However, it is paramount we prepare ourselves, our departments, and even our own households for another 2020 by creating a living and breathing COOP. Just as we create a preplan with the assumption that we will one day reference it on the "big one," we must also not think of our COOP as just another document to sit on a shelf.
The COOP can be a guiding light in the midst of a storm. As we move forward into a new year, we can all hope and pray 2021 does not bring about the same challenges, but the fact of the matter is, we will all face challenges of the unknown again one day. Is your department prepared to continue to provide emergency services when this occurs?