Applying metro fire department apparatus purchasing procedures to rural agencies
How to provide emergency services on a limited budget, incorporating the operational efficiencies employed by large fire departments
---
I retired recently from a large metro fire department where I had worked for 31 years. If that weren't enough of a life switch, I then moved to a rural area where I now volunteer for a very small fire department. This has been an eye-opening experience. The biggest challenge has been looking for ways to provide emergency services on a limited budget, incorporating the operational efficiency used by metro departments, particularly related the specifications of new apparatus.
For years, departments used detailed specifications that covered every facet of the apparatus, including brand and size of filters, bolts, bulbs, and valves, as well as the differential ratio. But now, time and research are geared more toward operational specifications that cover the jurisdiction's geographical location, including its square mileage, population and location-specific requirements (rural, suburban or urban). This specification also provides information about personnel, ISO ratings, cab size, engine and drive-train needs, equipment, hose, tank, pump size, and more. These are critical items that need to be reviewed by a diverse apparatus committee.
The good news: Even with very limited funding, various pieces of metro department procedures can be used when evaluating grant funding, plus used/refurbished or even donated fire apparatus.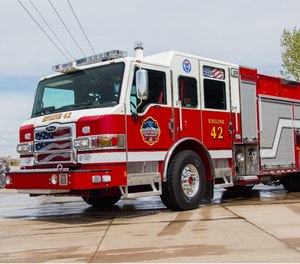 Apparatus purchasing committees: Success indicators
The first step in any apparatus procurement process is to form an apparatus purchasing committee – a dedicated group that analyzes changes in the department, manufacturing processes, technological innovations, apparatus, and equipment safety, and who is fiduciarily responsible.
Apparatus purchasing committees should have between three and eight members who can develop the foundation for the specification. The committee should include driver/operators, officers, paramedics (if the specification will be ALS capable), chief officers, internal purchasing representatives, and always an emergency vehicle technician or knowledgeable shop supervisor.
One way to guarantee apparatus committee success is to establish a standard that the committee chair can use to measure and monitor effectiveness. Success indicators include:
Cost-effectiveness and operational value
Ability of department personnel to efficiently operate on a day-to-day basis
Ability of standardized purchases to create lower costs related to the initial purchase, as well as ongoing maintenance and repair
An efficient purchasing, replacement and maintenance program for all apparatus
Alignment with the long-term goals of strategic and capitol replacement programs
Safety in the design and function of the emergency fleet.
Economic factors
Another issue for the apparatus committee to consider is the importance of economic variables in a replacement analysis. Economic data is often overlooked during replacement analysis because it is extremely difficult for fire departments to extrapolate. But this data is necessary to project inflation, depreciation, discount rates and variable costs such as repair and maintenance, down-time and call volumes. Economic indicators are critical components of replacement analysis because they serve to adjust apparatus cost through time. These indicators have a considerable impact on both apparatus capital and operating budgets.
The economic life of a unit refers to the length of time over which the average total apparatus cost is the lowest.
Total apparatus costs associated with ownership of equipment include:
Depreciation
Operation and maintenance
Downtime versus availability
Obsolescence
Operator training time and costs
Parts inventory via factory or dealer
Value of money (lease interest, bond interest, alternative capital)
Value and inflation
Cost of reserve apparatus for maintenance or major repairs
Cost-effectiveness
Operational value
Technological value
While preparing the apparatus specification, remember that the median fire truck life is 15 years. However, obsolescence often occurs before 15 years and that's when parts for the apparatus cab and chassis, body, aerial, fire pump, tank, foam system and other associated equipment are no longer available or have been replaced by improved equipment. Obsolescence is an additional operating cost that has a significant impact on downtime, resale value and depreciation.
During the life of the apparatus, these costs will vary. Some areas will increase while others will remain consistent and other areas will decline. The value is defined by the total life cycle cost of the apparatus that is relevant to its economic life.
The 3 lives of an apparatus
An apparatus basically has three lives:
A service life: The amount of time the vehicle is capable of rendering service.
A technological life: The relative productivity decline of the vehicle when compared to newer apparatus.
An economic life: The total cost associated with the apparatus over a period of time.
A department must pay particular attention to the economic life of the apparatus. As the vehicle ages, costs associated with maintenance go up and there may come a time when the apparatus must be replaced to reduce the total cost of operation.
The department should determine when the vehicle needs to be replaced based on cost and available funds. If a piece of apparatus is due for replacement, project the total costs of the current piece of apparatus for the following year and then compare the cost to that of a new piece of apparatus. The difference between the two figures could provide the argument for not keeping the vehicle past its economic point of replacement.
The capital-purchase process should be dedicated to facilitating improvements in the department's operations for all areas. It should decrease annual operational costs while improving in-service availability.
Other advantages include the standardization of apparatus, which improves driver/operator proficiency and apparatus efficiency, and optimizes vehicle use. Apparatus standardization also will improve overall agency efficiency, the specification process and emergency response effectiveness.
Final steps
When the decision has been made and the apparatus committee brings the specification together, then it's time review the vendor qualifications and establish a solid working relationship with the dealer and factory engineers. Examine parts availability, warranty terms and customer service. Advise the vendor that the apparatus will be used and maintained for many years, so it needs to be operationally functional, reliable, and safe.
---

Related resource
How to buy apparatus (eBook)
Download this FireRescue1 apparatus buying guide to learn key steps for product selection, purchasing and implementation