How to manage cold-weather calls
Following a few simple points can make winter a little more pleasant for firefighters
---
Now that you're in the winter weather frame of mind, it is time to consider policies, procedures and training.
Simple points that can help increase safety and efficiency during the winter months may be easily overlooked, until an incident occurs. Fortunately, there are several measures that can be implemented by both fire departments and individual personnel that might make this winter a little more pleasant.
Departments need to prepare both apparatus and personnel. Some things that should be considered: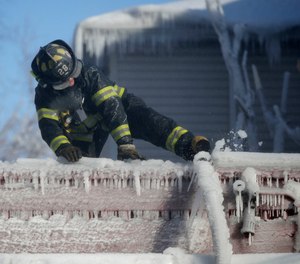 A review of the rehab policy with personnel, especially company officers and command officers, to reinforce the importance of early rehab in avoiding cold related injuries for on-scene personnel.
A review of the response guidelines with an emphasis on changing road conditions for all personnel.
Issuing snow melt or rock salt to stations to keep sidewalks, parking lots and aprons clear.
Encouraging the public to keep their address numbers visible and hydrants accessible.
While the big picture maintenance is usually the responsibility of the shop, apparatus operators and crews can do several things to help ensure the rig is ready for winter. Consider some of these items:
Put some snow melt or rock salt in a five-gallon bucket on the rig to use just in case you find yourself in an icy parking lot.
Make sure you have some type of shovel available to make a path in heavy snow.
Test the cab heater and defrosters before the cold really sets in and send the rig in for repair if they are not working.
Be sure automatic tire chains are operating correctly.
If the rig has chains that must be manually installed when needed, inspect them, repair any damaged links, and practice putting them on before the snow falls.
On a more individual level, there are several things you can do to make those cold days and nights more bearable:
Pack a small bag to leave on the apparatus with a pair of winter gloves, a warm hat, and dry T-shirt. You may want to consider adding a warm pair of socks or hand and foot warmers, too.
Be sure you have at least an extra hood and pair of firefighting gloves with you.
When possible, wear layers of approved clothing.
Consider packing a warm beverage in an insulated container.
Don't miss these additional resources:
16 tricks to stay warm fighting winter fires