Mass. firefighters use ladder truck to reach stranded flood victims
Flooding washed out the bridge serving as the only road access for some Leominster residents
---
By Dave Thompson
masslive.com
LEOMINSTER, Mass. — For Jackie Feliciano, Monday night started like any other rainstorm. With a broken ankle rendering her unable to walk, Feliciano couldn't have gone anywhere if she'd wanted to.
Then, at 7:30, her neighbor called.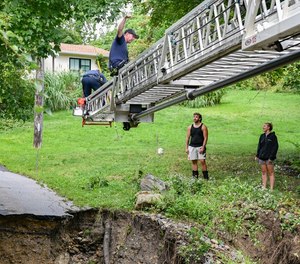 "She told me that the bridge got taken out. Her daughter was coming to bring her granddaughter and it was gone."
The bridge, spanning a portion of the Monoosoc Brook, serves as the only road access for residents of part of Exchange Street, though one could cut across Leominster High School's practice fields and through some woods to reach the homes.
Feliciano's boyfriend did just that, in the dark, with heavy rubber boots from his job at a paper mill, aided by a walking stick.
"He was like 'I'm getting home one way or another,'" Feliciano said.
Later Tuesday afternoon, Leominster firefighters followed the same path, using an ATV to deliver water and pizza to the residents with no access to the road. Firefighters said the trail they took isn't passable for other vehicles, and even caused their ATV to struggle, Feliciano said.
Before cutting through the school property, firefighters stretched a ladder across the gap where the bridge used to sit, to make first contact with the stranded residents.
Feliciano said her neighbors, on private septic and water systems, still have water and sewer access, but being on municipal utilities, she doesn't.
Still, she's thankful that water didn't invade her home other than through a leak in the roof.
"We should be OK for a little bit," Feliciano said, adding she's waiting for word from authorities on whether they'll issue an evacuation order.
Neighbor heard bridge collapse
Greg Smith, who lives on the main stretch of Exchange Street near the bridge, said he heard what he believed to be the structure's collapse.
The family had been watching the water steadily rise, several inches in their basement.
"It was pouring in so we made a line. We've got buckets, we're bringing it up the stairs and throwing it out the front door," Smith said, when he heard the noise.
"It was a very loud boom. I originally thought it was thunder, but it was the only thing I heard. And then the bridge wasn't there."
The swollen brook, which Smith said is usually more like a trickle, continued to rage Tuesday, reshaping backyards, crushing retaining walls and relocating large stones.
"This was unbelievable. I hope I never have to see it again," Smith said.
©2023 Advance Local Media LLC.
Visit masslive.com.
Distributed by Tribune Content Agency, LLC.
EARLIER: Mass. first responders perform water rescues, evacuations as flash flooding hits state
McClatchy-Tribune News Service