Photo, Video: LAFD fire engine burned in pallet yard blaze
Gov. Gavin Newsom declared a state of emergency after a pallet yard fire significantly damaged the I-10 Freeway
---
By Ruben Vives
Los Angeles Times
LOS ANGELES — The 10 Freeway in downtown Los Angeles was shut down indefinitely in both directions early Saturday after two wooden pallet yards caught fire, damaging an overpass and destroying several vehicles, including a firetruck, authorities said.
Westbound and eastbound lanes of the heavily traveled freeway are closed between Alameda Street and Santa Fe Avenue while structural engineers assess the damage, said Lauren Wonder, a CalTrans spokeswoman.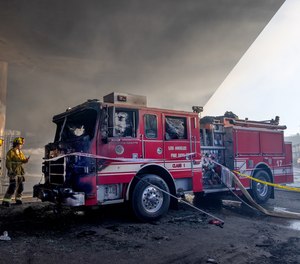 "As of now, the freeway is shut down indefinitely," Wonder said. "I would encourage people to avoid this area between the East L.A. interchange and Alameda Street."
Gov. Gavin Newsom declared a state of emergency Saturday night to help speed cleanup and repair and direct Caltrans to investigate whether to request federal assistance.
"The state is mobilizing resources and taking steps to ensure any necessary repairs are completed as soon as possible to minimize the impact on those traveling in and around Los Angeles," Newsom said in a statement. "The state will assess damage, remove hazardous waste and begin repairs as soon as the site can be accessed. Caltrans and the California Highway Patrol will continue to provide updates as they become available."
Saturday evening, Los Angeles Mayor Karen Bass said she had been in touch with Newsom and U.S. Secretary of Transportation Pete Buttigieg about the fire and the disruption it is expected to cause. And she warned people planning to attend major sporting events around downtown Los Angeles to expect delays.
"I have directed all city departments to immediately plan for how to address increased traffic due to this closure to best mitigate the impact on Angelenos," Bass said in a statement. "We will continue to urgently coordinate with our state partners to resolve this issue for not only the millions who use this freeway, but also for those who live and work in the surrounding areas."
The fire was reported shortly after midnight Saturday morning in the 1700 block of East 14th Street after a pallet yard under the freeway caught fire and spread to a second pallet yard nearby.
The massive fire prompted the California Highway Patrol to issue a SigAlert and close the freeway in both directions. Traffic on the eastbound lanes was being diverted at Santa Fe Avenue while traffic on the westbound lanes was being diverted at Alameda Street.
Los Angeles fire officials said firefighters from 26 companies and one helicopter responded to the scene and kept the fire from spreading into nearby commercial buildings. Heavy equipment operators were also used to move debris around and allow firefighters to douse small pockets of fire.
The Los Angeles Department of Water and Power also assisted by boosting water pressure in the area to compensate for the high volume needed.
Fire officials said that the fire forced several homeless people to evacuate the area and that vehicles parked under or near the freeway were damaged or destroyed. Officials said one of those vehicles was a fire engine.
The fire was extinguished as of 10 a.m. but firefighters continue to mop up the area. Caltrans officials also remained on the scene.
Wonder said hazmat teams are waiting on firefighters to finish mopping up the area and will head in to ensure that it's safe for structural engineers to go in and assess the extent of the damage to the freeway.
"We see what we call 'concrete spalling,' which is chips of concrete that come off, but we won't know the extent of the damage until the structural engineers can go in and see if the rebar was burned or not," she said. "This is still developing."
©2023 Los Angeles Times.
Visit at latimes.com.
Distributed by Tribune Content Agency, LLC.
McClatchy-Tribune News Service