Video: 2 dead, 4 injured when car slams into LACoFD fire engine
Street racing is considered after a Chrysler PT Cruiser slammed into a fire engine as it was responding to a call
---
By Summer Lin
Los Angeles Times
LOS ANGELES COUNTY, Calif. — Two people were killed and four firefighters were injured when a speeding vehicle crashed into a firetruck near West Compton early Tuesday, according to authorities.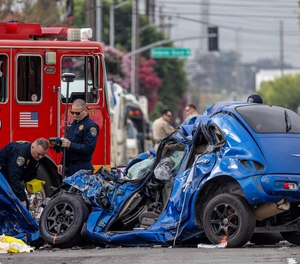 The crash occurred about 12:31 a.m. when a Los Angeles County Fire Department truck was responding to an emergency call and traveling north on Avalon Boulevard through the intersection with Compton Boulevard, according to California Highway Patrol spokesperson Angelia Gonzales.
The driver of a Chrysler PT Cruiser was going west on Compton Boulevard "at a high rate of speed" and hit the firetruck, Gonzalez said. Three other cars were involved in the crash.
Both people inside the Chrysler, identified only as a man and a woman in their 30s, were pronounced dead at the scene. Four firefighters inside the firetruck were hospitalized with minor injuries. No other injuries were reported.
The crash is still under investigation, and it hasn't been determined whether it involved a potential street race or if any drivers were under the influence of alcohol or drugs, Gonzales said.
©2023 Los Angeles Times.
Visit latimes.com.
Distributed by Tribune Content Agency, LLC.
McClatchy-Tribune News Service