2 arrested in Texas arson fires, including blaze that injured FF
Officials say five fires were set back-to-back, prompting multiple departments to respond
---
Rich Flowers
Athens Daily Review, Texas
HENDERSON COUNTY, Texas — A man and woman remained in the Henderson County Jail Thursday on multiple arson charges for fires set in the Cherokee Shores Community.
Raymond Jesse Collins Jr., 41, of Mabank, was held on five arson counts and a charge of possession of a controlled substance. Total bond on Collins was set at $158,500.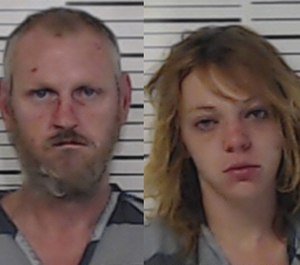 Tatum Michelle Moffett, 24, of Payne Springs was held on three arson charges with bond totaling $90,000. Henderson County Fire Marshal Shane Renberg said his office was notified shortly after 7 a.m Wednesday that three structures were on fire in the area.
"On our way, they told us that there was a fourth fire and a suspect riding around on a bicycle," Renberg said. "Some civilians were following him around to let us know where he was at."
Renberg said when he arrived at the location the Henderson County Sheriff's Office had detained the suspect. They soon learned there was a fifth fire in Cherokee Shores that morning.
Collins was taken to jail and booked on the five arson charges. The investigation revealed there had been a woman present at three of the arson locations.
"We found her in Cherokee Shores and arrested her for three of the offenses," Renberg said.
Renberg said he returned to the scene Thursday morning to continue looking into the fires.
"We have completed our scene investigation, so far, but we are not releasing the scene yet," Renberg said.
None of the burned homes were occupied when the fires broke out.
Payne Springs Fire Rescue got the first call at about 6:45 a.m.. At that time, two structures were on fire. When they arrived, two single- wide mobile homes were in flames. One Payne Springs firefighter was transported by EMS and treated for smoke inhalation.
Multiple departments aided in fighting the fires including Gun Barrel City, Eustace, Log Cabin, North 19 and Malakoff.
North 19 Chief Bob Morris thanked his personnel for their efforts at the fires as well as the other departments.
A string of arsons had been reported in Cherokee Shores in late 2017 and early 2018. About 10 houses burned in that spree. Eventually, two men were arrested in connection with the fires. The latest fires do not appear to be related to those, Renberg said.
———
©2020 the Athens Daily Review (Athens, Texas)
McClatchy-Tribune News Service