Arson suspect in custody 1 day after funeral for Philadelphia firefighter
Lt. Sean Williamson was laid to rest Monday at a service attended by hundreds
---
By Leila Merrill
PHILADELPHIA — The fire that led to a building collapse that killed a Philadelphia firefighter earlier this month was set intentionally, and a suspect is in custody, federal investigators said Tuesday.
The building owner, Al-Ashraf Basem Khalil, 28, of Philadelphia, was charged with arson. He was captured in the country of Jordan and returned to the United States Tuesday. Agents with the Bureau of Alcohol, Tobacco and Firearms arrested him, NBC Philadelphia reported.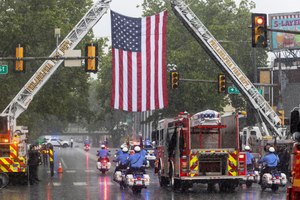 "Mr. Khalil had no role in starting the fire of his property and is in awe of the courage of the fireman involved and especially the sacrifice of Lt. Sean Williamson," Khalil's defense attorney, R. Emmett Madden said. "He gives his condolences to the (lieutenant) and his family during this difficult time. He has and will continue assisting fully in this ongoing investigation."
Lt. Sean Williamson, 51, died on June 18 and was laid to rest Monday. Hundreds of people attended the service.
"On the day he was killed, Sean was working an overtime shift on Ladder 3," Philadelphia Fire Commissioner Adam Thiel said Monday. "He wasn't down the shore, enjoying the beautiful weather. He was doing his duty."
Four other firefighters and a Licensing and Inspections Department inspector were also trapped, but they were rescued. The five who were transported to Temple University hospital were identified as:
Lt. Sylvester Burton, fire marshal
Lt. Clarence Johnson
Firefighter Dennis Daly
Firefighter Robert Brennan, Jr.
Thomas Rybakowski, supervisor, Emergency Services Unit, L&I