Baltimore mother pleads guilty to deaths of 6 children in '92 fire
Tonya Lucas was on home detention since 2015 after flawed arson investigations overturned her 1993 prison sentence
---
By Alex Mann
Baltimore Sun
BALTIMORE — A Baltimore woman has pleaded guilty to the killings of six of her children in a 1992 fire dubbed at the time as one of the worst crimes in the city's history.
Tuesday was not the first time Tonya Lucas was convicted in the deaths of six of her seven children: A jury in 1993 found her guilty of six counts of first-degree felony murder, finding that she intentionally set her home in East Baltimore on fire, and a judge handed her six consecutive terms of life in prison.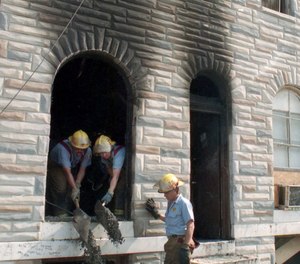 The decades-old conviction, however, relied on since-discredited fire investigation techniques. Recognizing the flaws that led to scores of arson exonerations around the country, a Baltimore Circuit Court judge overturned Lucas' guilty findings in 2015.
Baltimore prosecutors vowed to retry her. Lucas maintained her innocence and, in the meantime, was released on home detention in 2016 to get treatment for advanced-stage cancer.
Trials for Lucas in 2017 and 2019 ― more than two decades after her original convictions — ended with deadlocked juries and judges declaring mistrials. After her 2017 trial, her attorney at the time said nine jurors voted for acquittal.
Six years later, the case came back into a courtroom in Baltimore Circuit Court for a final resolution. On Tuesday, Lucas, now 59, pleaded guilty to arson and six counts of first-degree felony murder, agreeing to a sentence of life in prison with all but the cumulative time she served behind bars and on home detention — about 25 years — suspended. She also will be placed on probation for five years.
Her attorney, public defender Anne-Marie Gering, called the case "a tragic situation that would have only resulted in more harm if Ms. Lucas had to endure a fifth trial."
"Each trial takes an extreme emotional and physical toll on Ms. Lucas, who is battling metastatic breast cancer," Gering said in an email. "With this plea, she can remain in the community to receive the best medical treatment, and is spared re-experiencing the trauma of the fire and the subsequent deaths of her six children."
A spokesman for Baltimore State's Attorney Ivan Bates, a Democrat, said the victim impact statements given in court Tuesday explained why the prosecution reached a plea agreement.
"The family felt as though she had served time for the crime," James Bentley, the spokesman, told The Baltimore Sun. "They told her they forgave her, but that they did not forget. But they also talked about their need for closure."
Prosecutors have said they believed Lucas set fire to her home because she was set to be evicted from the property on East Eager Street and needed rental assistance from the Red Cross. They also alleged that the arson was intended to cover up Lucas' abuse of her 2-year-old son, Gregory Cook, who weighed only 10 pounds. The prosecution presented to the jury in 2017 photos of Gregory's emaciated body.
Gregory died in the blaze along with siblings 2-month-old Damien Cook, 2-year-old Takie Cook, 3-year-old Deon Cook, 5-year-old Russell Williams Jr. and 12-year-old Antoine Lucas.
William Lucas, 8, survived after Tonya Lucas' boyfriend at the time rescued him from the burning home.
William's mother jumped to safety from a second-story window.
"This is without a doubt, in our opinion, one of the worst crimes committed in the history of the city of Baltimore, because we not only have six dead people, but we have six dead children who could do nothing to ward off the abuse and neglect inflicted on them by this defendant," the prosecutor at Lucas' first trial, Jack I. Lessler, said at her sentencing in 1993.
Saying he believed Lucas exhibited "callousness" in the "terribly, terrible heinous nature of the crime," then-Baltimore Circuit Chief Judge Robert I. H. Hammerman said he believed there needed to be an "appropriate punishment" for each of the "six separate young lives" lost.
"It is despicable, and I think it is unspeakable as well," Hammerman said. "Nobody can accurately describe the full import of this crime."
Maryland's second-highest court, then called the Court of Special Appeals, rejected an appeal from Lucas in 1994, upholding her conviction.
The University of Baltimore School of Law's Innocence Project Clinic, at the time led by attorney Michelle Nethercott, took on Lucas' case at some point.
At her retrial in 2017, Nethercott questioned the state's theory, arguing that Lucas already was receiving government assistance to support her family. The defense also sought to discredit the state's key witness, a neighbor who said he saw Lucas ignite the fire, by saying the man lied about his interaction with Lucas before the blaze.
Citing flaws in the fire investigation more than 20 years ago, Lucas' lawyers also argued that it remained unclear whether the blaze was intentionally set, and that the investigators couldn't even say with confidence which part of the home it originated in.
"[Lucas] may not have been a fit mother," Nethercott told jurors at the outset of the 2017 trial, "but she did not set fire to her house."
©2023 Baltimore Sun.
Visit baltimoresun.com.
Distributed by Tribune Content Agency, LLC.
McClatchy-Tribune News Service