Man accused in deaths of 3 Pa. FFs in 1995 arson to skip trial and plead
Gregory Brown will enter an Alford plea, which allows him to maintain his innocence, and a judge plans to sentence Brown afterward
---
Torsten Ove
Pittsburgh Post-Gazette
PITTSBURGH — A man accused of setting an East Hills fire on Valentine's Day 1995 that killed three city firefighters has indicated he will enter a plea in federal court and be sentenced this summer.
Gregory Brown and his lawyers reached the agreement Thursday after a conference between prosecutors and U.S. District Judge David Cercone, who set a plea date for June 8.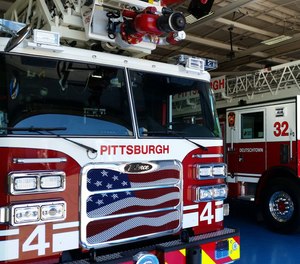 The proceeding will entail what is called an "Alford plea," which allows a defendant to enter a plea but still maintain his innocence.
The judge indicated he would sentence Brown after the plea. Brown is charged with malicious destruction of property by fire resulting in death.
Brown, whose previous state court conviction was overturned, had lost a major federal court decision last year.
In April 2021, the 3rd U.S. Circuit Court of Appeals ruled that a retrial of Brown in the U.S. District Court does not violate his double jeopardy rights. That ruling upheld a previous decision by Judge Cercone.
Brown and his lawyers had asked Judge Cercone to apply an exception to the "dual-sovereignty doctrine," arguing that his state trial for the same incident had been "merely a tool" of federal prosecutors.
But the appellate judges said retrying Brown because his state court conviction was reversed for trial error does not constitute double jeopardy.
The circuit judges said Judge Cercone did not make a mistake in denying Brown's motion to dismiss a federal indictment brought against him six years ago.
Brown had been convicted in Allegheny County Common Pleas Court in 1997 in the deaths of Thomas Brooks, 42, Patricia Conroy, 43, and Marc Kolenda, 27, all firefighters.
He won a new trial in 2014 after his legal team said he was the victim of prosecutorial misconduct because prosecutors did not disclose that two key witnesses had been paid for their testimony.
Instead of taking Brown to trial again in state court, however, authorities decided to take the case federal and the U.S. attorney's office brought an indictment in 2016.
Brown's lawyers objected, but Judge Cercone ruled the state court prosecution doesn't prevent a second trial in the federal system for the same crime and that double jeopardy doesn't apply if the results of the first trial are overturned because of error.
The 3rd Circuit agreed, saying a retrial would only be barred if the prosecution had deliberately provoked the defense into asking for a mistrial.
County prosecutors said Brown set the fire on Feb. 14, 1995 at the home on Bricelyn Street so that he and his mother could collect on a $20,000 renter's insurance policy. He was found guilty of three counts of second-degree murder in February 1997.
But Brown's conviction was thrown out in February 2014 after the defense presented evidence that an agent with the federal Bureau of Alcohol, Tobacco, Firearms and Explosives and the prosecution failed to turn over evidence that witnesses were offered reward money in exchange for their testimony.
___
(c)2022 the Pittsburgh Post-Gazette
McClatchy-Tribune News Service