Man seen carrying gas cans before blaze that injured 3 Ohio FFs
Authorities believe the man started the blaze and have issued an arrest warrant
---
Rick McCrabb
Journal-News, Hamilton, Ohio
MIDDLETOWN, Ohio — Middletown police have signed an arrest warrant for a homeless man they believe started a fire Sunday night in a vacant house.
Three Middletown firefighters suffered minor injuries while fighting the fire that caused $15,000 in damages to the house in the 2000 block of Pearl Street, said Fire Chief Paul Lolli.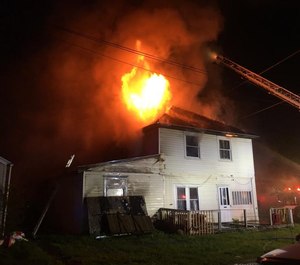 Firefighters received the call at 8:52 p.m. Sunday and were on scene until 5 a.m. Monday, Lolli said.
Police are looking for James Benjamin Davis, 33, and as of Thursday afternoon, he had not been arrested.
Davis allegedly was seen riding his bike near the fire scene while carrying two gas cans, according to police. He will be charged with three counts of aggravated arson, which are first-degree felonies, because three firefighters were injured, and one count of aggravated arson, a second-degree felony, for the damage done to the structure, according to the complaint filed in the Middletown Municipal Court.
Lolli said two firefighters suffered heat exhaustion and one partially fell through a floor of the vacant house.
Middletown detectives and fire investigators determined the cause of the fire was arson, the complaint read. Witnesses told them that Davis set the fire after having an altercation with his girlfriend.
Detective Steve Winters looked at a surveillance video from a nearby business and identified Davis was the person seen in the area a short time before the fire started, according to the complaint.
Middletown received mutual aid from Monroe, Trenton and Franklin, Lolli said.
Since 2013, Davis has been charged with numerous drug-related offenses, according to court records.
Police are looking for Davis and anyone with information is asked to call 513-425-7700.
———
©2020 the Journal-News (Hamilton, Ohio)
McClatchy-Tribune News Service