CFSI, IFSTA honor Comeau with fire safety education award
The Dr. Anne W. Phillips Award for Leadership in Fire Safety Education recognizes Comeau for his advocacy in campus fire safety
---
By Janelle Foskett
The Congressional Fire Services Institute (CFSI) and the International Fire Service Training Association have selected Ed Comeau as the recipient of the 2020 Dr. Anne W. Phillips Award for Leadership in Fire Safety Education. 
The award recognizes individuals for outstanding achievements at the national level in fire safety education.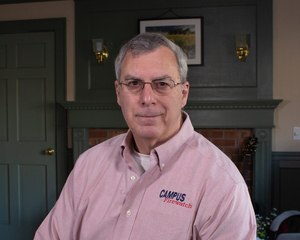 A statement from the CFSI described Comeau's background as a leading advocate for campus fire safety: "The genesis of his efforts began in 1999 when he published the first edition of Campus Firewatch, an electronic newsletter that has raised public awareness of fire safety on college campuses and in communities across the nation. The publication served as a springboard for launching other initiatives, including the Center for Campus Fire Safety in 2003. The nonprofit organization is devoted to reducing the loss of life from fire at our nation's campuses. As its first Executive Director, Comeau collaborated with national fire organizations to promote fire safety on college campuses across the US. In 2008, Congress approved the Campus Fire Safety Right to Know Act due in large part to Comeau's advocacy for the passage of this important piece of legislation, which requires institutions of higher education to issue annual fire safety information to students, their parents and the U.S. Department of Education. Comeau was also a catalyst for the declaration of September as National Campus Fire Safety Month."
The award is named after Dr. Anne Wight Phillips, a member of the National Commission on Fire Prevention and Control who was known for her enduring contributions to fire safety education.
Bill Jenaway, CFSI president; Craig Hannan, director of Fire Protection Publications at OSU; and Mike Wieder, IFSTA executive director, issued a joint statement describing Comeau as a passionate leader in campus fire safety: "Like Dr. Phillips, Ed recognizes that our fundamental role in public safety needs to begin with prevention and education, and he has focused his efforts in an area that had not always received proper attention prior to his involvement."
The award will be presented to Comeau on April 30 at the 32nd Annual National Fire and Emergency Services Dinner in Washington, DC.