IAFC announces 2022 Ben Franklin Award for Valor winners
Three members from Colerain Township, Ohio, were nominated for their "incredible bravery and perseverance" during a swiftwater rescue
---
By FireRescue1 staff
SAN ANTONIO, Texas — The International Association of Fire Chiefs (IAFC) and Motorola Solutions today announced Captain Michael Kaake, Lieutenant Kris Prosser and Firefighter-Paramedic Tyler Abbatiello as the recipients of the 2022 IAFC Ben Franklin Award for Valor.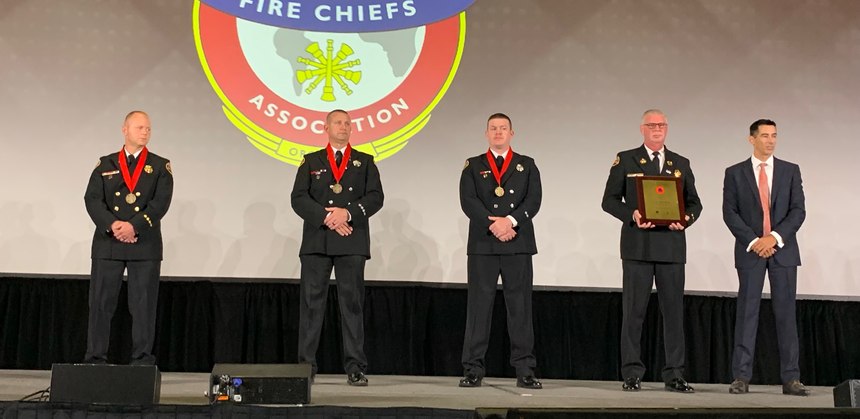 The three members of the Colerain Township (Ohio) Department of Fire and EMS were nominated for their "incredible bravery, perseverance and commitment to public safety" demonstrated during a swiftwater rescue in the Whitewater River, one of three major tributaries that empty into the Ohio River within the greater Cincinnati, Hamilton County, Ohio area, according to a press release from the IAFC.
On July 24, 2021, the Hamilton County Communications Center (HCCC) received a 911 call from a kayaker informing dispatch that a companion had overturned his kayak. Previous flooding, newly fallen trees, and powerful, swirling currents made for dangerous conditions. 
The HCCC dispatched Whitewater Township Fire Department and additional water rescue elements, among them the Colerain Township Department of Fire and EMS's Rescue 26 and Boat 26, as well as the Cincinnati Fire Department's Rescue 14 and Boat 14.
Colerain's Boat 26 launched first, with the crew of Kaake, Prosser and Abbatiello. They found the overturned kayaker near the confluence with the Ohio River. The kayaker was struggling to stay afloat and continuously being swept under by currents and undertow.
Prosser was able to move the boat within several yards of the kayaker. Kaake and Abbatiello swam to him and were able to secure a personal flotation device and anchor it to an overhanging tree. For several minutes, they held onto the kayaker and kept him from being pinned against a growing pile of debris while they awaited additional support from Cincinnati's Boat 14. The boat was able to get into a position that allowed rescuers to pull the victim onboard and take him safely to shore.
"Our Ben Franklin Award for Valor, named for the nation's first fire chief, Benjamin Franklin, is our association's most prestigious honor," said Chief Ken Stuebing, president and board chair, IAFC. "It recognizes firefighters worldwide for their expert training, leadership, heroic actions and safe practices. We thank this year's very deserving recipients for their courage."
---

Read next
Inside the rescue that earned 3 Ohio firefighters the IAFC's Ben Franklin Award of Valor
Three Colerain Township firefighters are recognized for their brave actions during a swiftwater rescue
---