IAFC announces 2023 Ben Franklin Award for Valor recipients
The three members of the Hilton Head (S.C.) Fire Rescue were honored for a heroic save at a structure fire amid deteriorating conditions
---
By FireRescue1 Staff
KANSAS CITY, Mo. — The International Association of Fire Chiefs (IAFC) and Motorola Solutions announced today Battalion Chief David Bell, Fire Apparatus Operator Brendan Horlbeck and Lieutenant Sean Kavlick as the recipients of the 2023 IAFC Ben Franklin Award for Valor.
The three members of the Hilton Head (S.C.) Fire Rescue were nominated for their heroics at a residential house fire, where three occupants were unaccounted for as flames engulfed the structure.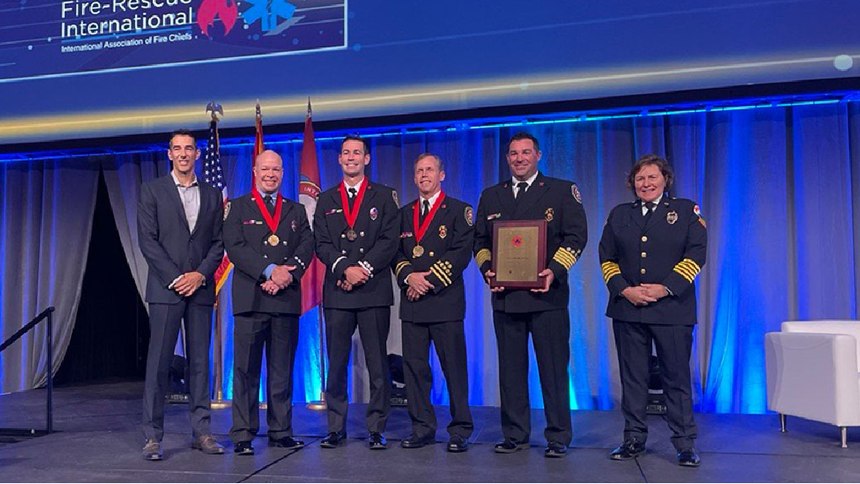 Undeterred and without a handline, Bell, Horlbeck and Kavlick entered the home to search for the missing individuals. Though zero visibility and high heat complicated the sweep, Bell made physical contact with what he believed to be one of the occupants, based on physical descriptions. Together, he and the team carried the victim outside the home, where life-saving measures were performed. The victim was transported to Hilton Head hospital and later to a burn unit in Georgia.
Despite their efforts, another occupant was later found deceased in a different, more difficult-to-reach area of the home. Still, the perseverance of the team was immediately recognized and appreciated by the surviving family members and the community.
"The IAFC and Motorola are proud to honor them with the Ben Franklin Award for Valor, highlighting their exceptional dedication to serving the community and exemplifying the true spirit of heroism in the firefighting profession," the IAFC said in a statement.
---

More from #FRI2023:
Full conference coverage
For the first time since 2002, attendees of the Fire-Rescue International conference converge on Kansas City, Missouri – the "Heart of America" – for this year's gathering
---