'We dodged a bullet': 12-year-old Texas girl saves family from CO poisoning
Jaziyah Parker noticed her mom was "acting weird" so she called 911
---
By Harrison Mantas
Fort Worth Star-Telegram
FORT WORTH, Texas — Ariel Mitchell was just trying to put her kids to sleep when she started to feel woozy. Her daughter, 12-year-old Jaziyah Parker, said her mom was acting weird.
So she decided to call 911.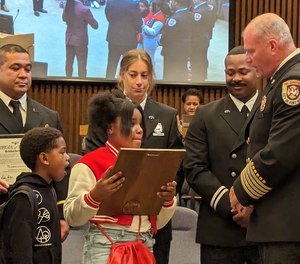 Parker talked to the operator for 11 minutes before the firefighters showed up. When they got there, she collapsed from carbon monoxide poisoning.
Her March 27 call saved the lives of her mother and four siblings, Fort Worth fire officials said. The five children ranged in age from seven months to 12 years old.
A fire crew from Station 29 rushed in without protective gear after a carbon monoxide meter picked up high levels of the dangerous gas. It's not clear how long the family was exposed, but crew chief Rudy Leonguerrero said Mitchell and her seven-month-old baby had minutes to live when his team arrived.
The crew found the entire family passed out with two of the children lying in vomit, Leonguerrero said.
The city honored Parker and the fire crew with separate proclamations Tuesday.
Along with Leonguerrero, the city recognized firefighters Andre Williams, Sarah Beckman, and Israel Martinez.
"In a position when most grown adults would be paralyzed with fear, Jaziyah saved six lives with just one call that night," the city's proclamation read.
The proclamation recognizing the fire crew honored members for putting their lives in danger saying their actions showcased the "caring spirit of the city of Fort Worth, the community, and the fire department."
Carbon monoxide is an odorless, colorless gas, and many people fall victim by falling asleep thinking they're sick with the flu, said Fort Worth Fire Chief Jim Davis.
He recommended people install carbon monoxide detectors near furnaces or hot water heaters.
Davis recognized Parker with a separate plaque honoring her bravery. He said her story is a message to the public about the importance of protecting against carbon monoxide poisoning.
"We dodged a bullet with this family," Davis said speaking after the meeting.
The Fort Worth fire department will install free smoke detectors in peoples' homes, but doesn't have the same program for carbon monoxide detectors.
©2023 Fort Worth Star-Telegram.
Visit star-telegram.com.
Distributed by Tribune Content Agency, LLC.
McClatchy-Tribune News Service