Ore. city officials drop petition to end benefits for firefighter's widow
Salem officials had challenged whether Firefighter Maurice Stadeli's cancer was occupational
---
By Bill Carey 
FireRescue1 
SALEM, Ore. — Salem officials have reversed course after growing public complaints about an earlier decision to stop paying workers' compensation benefits to the widow of a fallen firefighter, KGW8 reported. 
"He loved the job, he loved the community, he loved to help people," Salem Firefighter and union President Matt Brozovich said.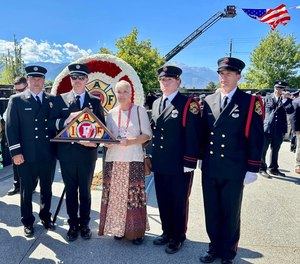 Salem Firefighter Maurice "Mo" Stadeli had beaten cancer in 2018, but it came back a year later and Stadeli died from tonsil cancer. He was recognized this year in Colorado Springs as his name was placed on the IAFF Memorial Wall alongside fallen firefighters from across the nation. 
Earlier, Stadeli's widow Tina had learned the city was trying to take away the worker's' compensation benefits she was awarded after her husband's death. The Oregon Court of Appeals upheld her right to receive those benefits in City of Salem v. Stadeli and the city decided to appeal to the Oregon Supreme Court. 
"The City believes that the Court of Appeals decision misinterpreted Oregon Workers' Compensation law, by requiring medical experts to have a level of certainty regarding the cause of some diseases that simply is not possible," the city said in a statement. 
Following an outcry from firefighters across the state over the decision to appeal, city officials changed their course. 
Salem City Manager Keith Stahley said that after getting further input from the city council, he directed the city attorney to withdraw its petition to the Oregon Supreme Court regarding the appeals court decision on Stadeli's case.