Union: Kennedy Space Center firefighters preparing to strike
Firefighters said NASA fire and rescue operations contractor Chenega Infinity is trying to get rid of sick leave and cut down retirement benefits
---
By FireRescue1 Staff
TITUSVILLE, Fla. — Firefighters at Kennedy Space Center are preparing to strike to fight for their retirement benefits and sick leave that they say officials are trying to take away.
WFTV reported that NASA fire and rescue operations contractor Chenega Infinity is attempting to get rid of their sick leave and cut retirement benefits since their contract ended seven months ago.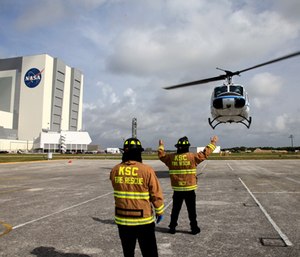 Firefighters unanimously voted against a contract proposal from that union president Kevin Smith described as unconscionable. The firefighters gave union officials authority to call a strike, but said they hope to negotiate a deal that will prevent it from occurring. 
"We don't want to be on the street. We don't want to be picketing. We don't want to leave the Kennedy Space Center unprotected," Smith said. "In the company's last and best offer, they have proposed an 80 percent reduction in our retirement benefits and a 100 percent reduction in sick leave. These firemen deserve sick leave; they deserve the ability to retire with dignity."
Smith added that if they do not receive a better offer, many of the nearly 80 firefighters who work at the space center may leave.
"I've got to do something my family can't afford what's going to happen and I can no longer be a firefighter past the age of 55," Lt. Mike Herndon said.
The union is calling upon NASA to intervene in the contract negotiations, who said they will "remain neutral."
"In accordance with Federal regulation and Agency policy, NASA has and will continue to remain neutral and impartial concerning any dispute between the parties," NASA said in a statement.