CFSI 2023: Delivering a united message, plus critical education and connection opportunities
An inside look at the annual event to connect fire service leaders and legislators
---
Just imagine if every one of the fire service constituent organizations dealt separately with the 50 states' elected officials. There aren't enough hours in any given day to consider the coordination that would be necessary, if that's how the fire service – just one of thousands of constituent groups – dealt with the federal government. It is easy to imagine the additional chaos and general dysfunction that would exist in code development, grant allocations and legislative agendas.
To avoid such dysfunction, the Congressional Fire Services Caucus of the U.S. Congress was established to provide a means for federal fire service issues to be considered. To coordinate all of the constituent organizations' legislative efforts that the caucus would consider and deliberate, the nonprofit Congressional Fire Services Institute (CFSI) was established in 1989. CFSI established a National Advisory Committee (NAC) made up of representatives from each of the constituent organizations. Lexipol is one of those organizations, and in my role with FireRescue1.com, I am honored to serve on the CFSI NAC.
This year's annual CFSI seminar and dinner featured a central theme of being united in our messaging, complemented with strong educational sessions and another important NAC meeting.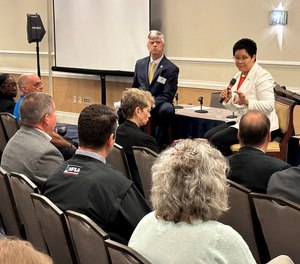 CFSI 2023: Delivering a united message
The two-day seminar in late-May provided an opportunity to hear about ongoing efforts within CFSI to steward the fire service agenda, and provided time to learn more about many of the emerging topics affecting first responders globally. In addition to seminar presentations, various groups of fire service leaders from around the country joined on Capitol Hill for "Hill Day" to deliver a united message and to educate Congressional leaders about the current issues with which CFSI is engaged. This was a rare opportunity for fire service leaders to have official one-on-one time with members of Congress and/or their staff.
While any one of the 10 classroom sessions could sustain an article of its own, I want to provide a snapshot of three of the sessions that were especially enlightening to me.
1. "Recruitment, Development, and Retention Strategies for Today's Fire and Emergency Services"
Presenters:
Ken Wilhite, Executive Director of the North American Fire Training Directors
Chief Joel Carny, National Volunteer Fire Council (NVFC)
Chief Salvatore Scarpa, Columbia (Georgia) Fire & EMS
This wasn't the typical recruitment and retention class like the countless others I've attended over the past couple years. Examining leadership more than process, there was focus in this presentation on understanding the feeling of value that employees and volunteers need from their organizations. Presenters also discussed recruitment and how chiefs need to know their acceptable attrition rate, referred to in class as "acceptable churn."
In the discussion about recruitment, Scarpa provided this food for thought: "If you want to go fishing – go cast a net. If you want to fill jobs, go recruiting. If you want quality candidates, you HAVE to go out and recruit them, find them. The days of thousands showing up at your doorstep is pretty much over."
As I've heard in other discussions, the current generation may learn differently than past generations; however, the presenters believe the sense of duty is just as strong with today's youth as it has ever been.
2. "Federal Government Partners in Fire Service Health and Safety Research"
Presenters:
Dr. Susan Moore, Associate Director for Science, NIOSH
Dr. Emily Haas, Senior Research Behavioral Scientist, NIOSH
Dr. Rick Davis, Leader, Flammability Reduction Group, NIST
This short class was packed with substance that fire service leaders need to hear. Presenters discussed how they are working with NASA for help looking at ways to fit gear better – "equitable PPE protections." They also discussed how NIOSH is working with community crowd-sourcing efforts to solicit new ideas in fire safety and working with the U.S. Fire Administration on the public safety data modernization project. Presenters addressed efforts to engage vulnerable communities to help reduce fire impacts. Finally, they discussed the work NIOSH is doing in the mental health space.
Dr. Davis spoke to how NIST's activities have their underpinnings in standards, regulations and codes. He emphasized, though, that NIST also works with structural firefighters, on WUI issues, and on lithium-ion battery issues among many emerging fire service concerns.
3. "Lithium-Ion Batteries: Challenges Facing the Fire and Emergency Services"
Presenters:
Dr. Steve Kerber, Vice President and Executive Director, UL's Fire Safety Research Institute (FSRI)
Adam Barowy, Research Engineer, FSRI
Sean DeCrane, Director Health and Safety Operational Services, IAFF
Chief Michael O'Brian, Board of Directors, IAFC
Lithium-ion batteries are one of the least understood operational issues facing the fire service. Presenters discussed how, from an industry perspective, this is a technology that has evolved beyond and without consideration of the fire service's capacity to effectively mitigate the impacts of the technology.
Chief O'Brian noted the billions of dollars being granted to manufacturers to develop technologies to address the issue, with independent research and safety development left behind. He commented, "At the pace they're moving, WE are not moving fast enough. The IAFC pushes on these issues, but you need to become involved in the codes process now." Chief O'Brian also provided some guidance for chiefs:
By end of 2025, the United States will be producing about 25 million battery cells per day. (Think about that on an aggregate – that's over 9 billion battery cells a year. Are we ready for all that?)
Training, "just start doing something – there are lots of opportunities."
Have a firehouse EV open house. Ask people to bring their cars and ask manufacturers to come. This is a great twist of the firehouse open-house idea, bringing emerging issues right to your front ramp – a place where the users, sellers/manufacturers and responders can all come together and look at the issue.
There was some discussion about the myriad methods of attack that have flooded the market. The "let it burn" approach solicited more thought and discussion of go/no-go decisions for extinguishment. "No-go" on fires is always a difficult stance to manage in the fire service and will likely not bode well with the public, our elected officials and our sister-response agencies, especially if we can't come up with a better alternative. This is clearly a work in progress.
While discussing strategies to deal with lithium-ion battery fires, Dr. Kerber provided the most "real" comment from the entire discussion: "We simply don't have the answers most of you are looking for." Ironically and related, our fellow European Union organization, the Federation of European Union Fire Officers, issued an EV technology press release this week. The statement echoes Kerber's and O'Brian's comments, noting, "It is imperative that the safety implications of the energy transition solutions receive adequate attention."
Additional resources:
The other notable sessions presented at CFSI included "Diversity, Equity, and Inclusion: Creating a Path Forward," "Government 101: Advocating for Fire and Emergency Services," "Enhancing Fire Service-Based EMS," "Active Shooter and Hostile Event Response Preparedness and Planning," "Into the Breach: Data and Cyber Security for Fire Departments," "The Wildland Fire Mitigation and Management Commission: Where Are We Now and Where Are We Going?" and "A conversation with the U.S. Fire Administrator."
Celebrating those embodying the united message
Following the educational session opportunities and time on Capitol Hill, the 33rd annual Fire and Emergency Services Dinner offered the opportunity for more than 1,200 leaders to join in fellowship and celebration. Plus, the culmination of the night is the presentation of four prestigious awards, which are sponsored by key stakeholders and the CFSI.
CFSI/Motorola Solutions Mason Lankford Fire Service Leadership Award: Dr. Dan Madrzykowski, director of research for UL's FSRI
CFSI/IFSTA Dr. Anne Phillips Award for Leadership in Fire Safety Education: Peg Paul, Home Fire Sprinkler Coalition
CFSI/NFFF Senator Paul S. Sarbanes Fire Service Safety Leadership Award: Greater Tucson Fire Foundation
CFSI/Masimo Excellence in Fire Service-Based EMS Award: Colorado Springs Fire Department
Learn more about the winners here.
Closing the event: The NAC annual meeting
Aside from some individual meetings, the NAC annual meeting closes out the symposium. The NAC is comprised of one representative from 35 stakeholder organizations. At this year's NAC meeting, we heard brief updates on several important ongoing fire service projects: FirstNet, Vision 20/20, the National Firefighter Registry, plus general legislative items and CFSI activity.
Prior to the conclusion of the NAC meeting, we voted unanimous approval on two issues:
New NAC-member organizations

Women in Fire
Fire Equipment Manufacturers Association (FEMA)
International Municipal Signal Association (IMSA) Educational Foundation

Supporting a bill in Congress to have certain cancers included for PSOB benefits – much more to come on this one.
The CFSI offers an opportunity for fire departments to craft and carry a unified message. The "politics" of the strength and unity of our messages is more powerful than the messages themselves.