9 conversations every company officer should have with a rookie firefighter
Start your new member on the right foot by getting to know them better and sharing key insights about the profession
---
By Dan Jones
Whether you like it or not, sooner or later every company officer will have a rookie assigned to their crew or station, and the officer will be expected to help develop that rookie into a competent and dependable firefighter. This is a critical time in the rookie's career, and the company officer's action will greatly influence their potential for success.
Many fire departments have a process of career development for their newly minted firefighters fresh out of the academy, and company officers can help these rookies manage this process. For example, many departments require that rookies pass a probationary test within a determined timeframe. This is all well and good, but rookie firefighters need to do more than just pass a test to get their career started on the right track. Mentoring should be a priority for the company officer.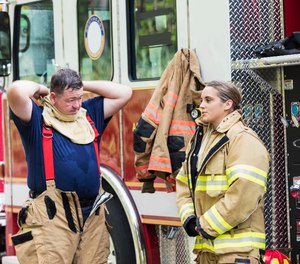 The mentoring I refer to here is a series of subject-specific conversations to be held with the rookie during their first couple months assigned to the crew. The company officer should be the one to have most of these conversations, but some can also be delegated to more senior members of the crew, thus including them in the responsibility for developing the new member.
Make sure these conversations are positive and help build the new member. All of us have seen the negative influence that a few grumpy, negative or bitter more-experienced firefighters can have on a rookie. Let's not eat our young but rather guide them to be strong and contributing members of our organizations for the future.
Key conversations
As for the conversations that company officers should have with the rookie, I offer here a list based on my own observations of rookie firefighters over the last four decades. Your list might differ based on the type of basic training your department provides and/or the culture and expectations of your department, station and crew. Regardless, make sure these conversations take place in a positive, informal and helpful way, using a mentoring approach and allowing for questions and clarification of understanding. Additionally, don't try to cram all the subjects into one session or conversation. Scatter them over the first few months so the rookie has time to absorb the information and think about each subject. Encourage them to come back with questions or thoughts about what you have shared with them.
Who are you? Learn about the rookie. Ask about their background, education, life experiences, goals and likes/dislikes. Ask what drew them into the fire service. Ask about their experience and perceptions of the fire academy. Learn about their family, their hobbies and their pastimes. Then share a little about yourself, answering same questions. Make them feel welcomed and wanted.
The mentoring process: Explain how mentoring works and that you or another member of the crew will be available to them for that purpose. Mentoring in this context is the informal process where a more seasoned member of the crew helps the rookie by being a sounding board for the rookie's concerns and a source to answer questions they may have. Mentors can also fill in the gaps in training that the rookie has already received. Many departments have a more formal process for this to occur, but regardless, it is a very important part of the development of new personnel.
Values and expectations: Share your thoughts about fire service work ethic and the important nature of teamwork in the company. Ask about their personal values. What is important to them? What is their definition of success? Talk about ethics and how they are always representing the fire service and the department on duty or off. Share your own values and leadership style. Be clear about the expectations of conduct, performance and representation by both the department and by you as their supervisor.
Fire station life: Do not assume what the rookie knows or doesn't know about the fire service or your department. Detail fire station life for them, including what the daily work schedule is like and what their role will be. Share the overall personality of the crew and how to fit into the group and get along with everyone. Make sure they understand how temporary reassignments work and the possibility of rotating out to another crew/station. Ensure that they know how payroll is done and anything they must do or submit related to it. Further, make sure they understand any department rules or limitations on personal visits to the station by family or friends. Talk about the routines, what to do with their downtime and the various activities in which the crew participates.
First-due: Explain your first-due area and the common runs they'll see. Share the significant hazard locations as well as any "frequent flyer" locations you respond to with some regularity. Also share any areas of response that are a particular concern of yours.
Profession pain points: Have a conversation with the rookie about the hard parts of this profession. Talk about the traumatic events and scenes they may encounter. Talk about the hard days at work like heavy call loads, severe weather responses, potential violence, times of excessive overtime, family stress related to the job, potential for injury and personal conflicts. Make sure to include in this conversation any resources that are available to them, plus safety measures you will ensure for them, and how to use their situational awareness as part of the team. Also, make it very clear that they can always come to you when they are troubled or experiencing difficulty with any aspect of the job or life.
Career development: Share with the rookie your perceptions about career potentials and how to develop their own goals for advancement if that is their interest. Share how education factors into advancement and which certifications and special qualifications are available, especially if your department has special operations teams for which they could become eligible. Talk about life-long learning discipline and the importance of reading and staying current with things like technologies, operations, tactics and health and safety issues.
Traditions: Teach them about the traditions of the fire service, your department and your station – why traditions are important and what those traditions represent. How are those traditions practiced at your department?
Rules and regulations: If not already covered by departmental training requirements, do a review of the department's rules and regulations, particularly those that can get a new person in trouble early on. Ensure that the rookie has read and understand the rules and policies. Encourage them to come to you with any questions about the rules.
These conversations will help get the rookie off to a good start and ensure that any questions they have are answered (some new employees are hesitant to ask) and that any misunderstandings or misperceptions they may have are clarified early in their tenure.
A good start
It is essential to establish a positive working relationship with the newest member of your crew and make them a part of your team right from the start. Get a clear understanding of them and help them get a clear understanding of you, your crew and the department. If you start your rookie firefighter off in a positive manner, they will forever be grateful to you for it!
About the author
Dan Jones joined the fire service in 1974 and ultimately retired as fire chief of the Chapel Hill (North Carolina) Fire Department in 2015. Since then, he created Chief Dan Leadership LLC to provide leadership training in partnership with Kelly Walsh Consulting LLC, and co-created the Brave Fire Leader Academy. Chief Jones has served in a variety of leadership roles at local, state and national levels, including serving as a former editor-in-chief of National Fire & Rescue Magazine and chairman-of-the-board for the International Society of Fire Service Instructors. Jones is a published writer and conference speaker and is recognized throughout the fire service as an authority in the field of leadership/management, campus housing fire safety, fire sprinklers and motorsports fire-rescue. He has co-authored two books, "Managing People: A Fire Officer Series," published by ISFSI, and "Facing the Fire: Stories to Ignite Leadership Excellence." Jones has been recognized with numerous awards, including Florida Fire Instructor of the Year and IAFC President's Award.