FRI 2019 Quick Take: Successfully transitioning from firefighter to company officer
New company officers must focus more on risk management than keeping everyone happy
---
The FireRescue1 Academy features Fire Officer 1 and 2 courses, such as "Fire Officer Leadership Skills" and "Leader, Mentor and Coach," as well as professional development courses like "Developing Leadership" and "Enhancing Work Relationships" to grow collaborative leadership skills. Visit the FireRescue1 Academy to learn more and to schedule an online demo.
ATLANTA — "I sucked as a company officer." This was the declaration from Steve Prziborowksi, deputy chief, Santa Clara County (California) Fire Department, at the beginning of his Fire-Rescue International 2019 session "Successfully transitioning from firefighter to company officer." He followed by acknowledging that no one ever told him this, and he didn't get anyone killed or injured on his watch. However, he feels that, in hindsight, he didn't hold his crewmembers accountable in the way he likely should have.
Prziborowski's admission highlights a critical part of the company officer job, and the one that is perhaps most feared – the need to discipline firefighters, some of whom may have been friends prior to your promotion. People simply don't like conflict and, as a result, company officers can get "run over" by firefighters looking to capitalize on a lack of accountability.
Why is this so important? Prziborowski put it in perspective: "You or one of someone you supervise has a better chance of suffering punitive discipline (written reprimand, transfer, suspension, demotion, termination) or having a behavioral health issue than getting killed in the line of duty." And who's that first line of defense? The company officer. The company officer is the critical person who can keep firefighters out of trouble – and employed.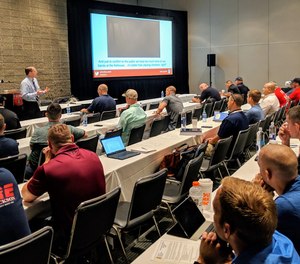 Memorable quotes
Prziborowksi offered advice for aspiring and current company officers. These are some quotes from his session about making the transition from firefighter to company officer:
"We've got to prompt each other for success if we want to be good leaders."
"You've got to think like a risk manager as an officer. You are a 24/7/365 risk manager."
"If you don't sometimes feel like the department asshole, that's a problem. Leadership is lonely."
"Leadership starts at the firehouse. It takes courage to be a leader."
"True brotherhood means taking care of our brothers and sisters and not letting bad things happen to them."
Key takeaways
Following are seven key takeaways from Prziborowksi's session:
1. Important fire officer traits and skills: Every fire officer works on the following traits and skills to be successful in their role:
Accountability
Strong communicator
Soft skills
Trust
Integrity
Empathy for customers, fellow firefighters
Honesty
Flexible to change
Strong decision-maker
2. Ready for leadership? Prziborowksi said firefighters should be able to confirm the following before taking on the role of a company officer.
You want to be a part of the solution
You're not currently overwhelmed
You put service above self
You make decisions
You can tolerate conflict and knowing some may not like you for what you stand for or do (in the best interest of the FD, the community)
3. First day on the job: Prziborowksi put forth a series of questions for company officers to consider as they approach their first day on the job:
Have you created your personnel expectations?
Have you created your outline for your first crew meeting?
Have you rehearsed/created your radio report on conditions template?
Have you practiced assigning companies?
Have you figured out how to handle personnel issues?
4. We're our worst enemies: Prziborowksi explained how firefighters can sometimes be their own worst enemies. There are too many times when they don't stop a bad action before it's too late, saying, "I didn't want to mess up the brotherhood/sisterhood because I gotta work with them 24/7/365." But, he asked, how does standing up for the brotherhood/sisterhood impact your family, especially if you lose your job? Your life and family should come first, above worrying about how you'll look to your fellow firefighters.
5. Teachable moments: Prziborowksi encourages company officers to use "teachable moments" to provide guidance to firefighters who may be heading down a negative path – one that may lead to discipline.
6. Not just a fire officer: Prziborowksi stressed that the company officer role is so much more than that title and the responsibilities that most expect come with sitting in that front right seat. In addition to being the "designated adult" on the crew, company officers are essentially HR professionals, risk managers, health and safety officers, training officers, supervisors, followers and leaders.
7. Simple words go a long way: Making the transition from buddy to boss can be a rocky and complex road, but Prziborowksi reminded that sometimes it's the little things that can help in a transition of this nature. This includes remembering the following key phrases:
Please/thank you
How can I assist/support you?
I was wrong (you were right)
I am sorry
What are your thoughts?
How can we better assist our team?
Prziborowksi concluded with encouragement to "do your best" in a difficult position, but reminded that if you want to make everyone happy, then don't be a leader.