8 steps to preplanning local catastrophic emergencies
Preplanning is an integral part of the fire service's responsibilities and should be a priority for all departments
---
In the past few months, the U.S. fire service has seen several fires that have caught and kept the attention of the media – and subsequently the public – around the country, beginning with the Norfolk and Southern Railroad train derailment outside East Palestine, Ohio, on Feb. 3. For nearly a week, a huge column of smoke emanated from the incident, resulting in evacuation and shelter-in-place orders for nearby residents. This catastrophic fire and ecological emergency will impact the East Palestine community for years to come.
The Ohio train derailment was followed by similar fires, including a blaze at a recycling facility in Richmond, Indiana, that again burned for days and prompted shelter-in-place restrictions from a plume of smoke that could be picked up on weather radar. Adverse respiratory effects from the smoke were reportedly felt up to 50 miles away from the incident.
I've had the opportunity to hear stories from some of the support staff members that helped coordinate the resources at these incidents from the responding local, state and federal agencies, as well as outside clean-up contractors hired by the responsible parties. From these conversations, I believe that it is incumbent on local fire departments, in conjunction with county or state fire agencies, to quickly assess the hazards within their local communities and then create a plan for operations ahead of any potential catastrophic emergency.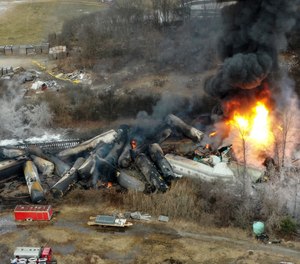 Preplanning limitations for volunteer, rural fire departments
While larger fire departments may have access to expertise through their regular fire inspection program and the assistance of their Local Emergency Planning Committee (LEPC) to delineate hazardous occupancies or transportation corridors, the same may not be true for smaller or more rural communities. Add to this the fact that 70% of the estimated 30,000 fire departments across our country are staffed by volunteers and we may begin to see the problem in a new light.
Leaders at volunteer fire departments are being pulled in several directions at once, as many struggle to recruit and train enough volunteer firefighters in their communities to adequately handle routine emergencies, such as a single-family dwelling fires, car crashes or medical emergencies. Time designated for emergency disaster planning may be set aside for the more pressing and immediate needs of the day.
8 preplanning steps for a safer community
When I started in the fire service as a volunteer, I distinctly remember driving past the iconic Spaeth's General Store with my first chief, Corky Snyder. The chief stopped in, not to shop, but to show me the large rear shed that stored tons of ammonium nitrate fertilizer. To paraphrase his warning, "If this store is on fire, first protect this shed – and if it's too far gone, evacuate the area for a quarter mile and get back yourself." 
Fortunately, neither happened and Spaeth's went out of business with the arrival of the "big box" stores, but it was my first practical lesson in preplanning.
In an ideal world, we should be able to achieve a safer community with a few steps:
Identify those occupancies that are hazardous or could have adverse effects on your town or community, perhaps to include the largest employer in the area.
Inspect those occupancies for all potential hazards, not just fires.
Look for "built-in" protection systems – fire alarms, sprinklers, water supply, extinguishers, fire separations, employee training, etc.
Determine if the facility large enough to have its own fire brigade to initially handle an incipient fire or help contain a larger one until the arrival of the fire department.
Based on these factors, develop a preplan that shows the location of things, such as fire department connections to supplement the sprinklers or other fire protection systems.
Familiarize members of the department with the structure(s) and the processes that are taking place within each. Note, as well, if there are areas where standard fire suppression may do more harm than good.
Do a needs assessment to determine, in a worst-case scenario, how many firefighters and how much equipment would be needed to safely contain and extinguish a fire in this facility.
Sit down with the needed neighboring departments to make them aware of your game plan and what they should expect if called to assist you.
Implementing the list
While not a thorough list, how is today's time-constrained volunteer fire department going to accomplish any or all these objectives? 
First, your county should have an LEPC that is charged with identifying and planning for an emergency in a high hazard occupancy. The LEPC should have copies of the Material Safety Data Sheet (MSDS) for any hazardous or corrosive materials used in the facility, and these should be available to you as the responding fire department.
Second, if you do not have a certified fire inspector, contact your State Fire Marshal's office. In most states, the SFM is authorized to enter any structure or commercial occupancy for the purpose of inspecting it for fire or other dangerous hazards during normal business hours. A copy of their latest inspection can assist in your preplanning.
The plans review section of the SFM's office may also help determine if the existing fire suppression systems or water supply are adequate for your needs at the facility site.
In the case of railroads or over-the-road trucks, ensure your department is trained on the hazardous materials classification markings and have the most recent edition of the Emergency Response Guidebook (ERG) on each fire apparatus, or on your cell phone.  The ERG is usually available free from your state or county EMA, as well as the LEPC.
Bottom line: Have a plan
While I know this is a lot to consider, especially for a volunteer department, it is an integral part of your service to anticipate the dangers and your response to the unthinkable disasters that may befall your community. Be prepared with a plan so you are ready to act.
Stay safe!