FRI 2022 Quick Take: Responding to an active shooter scene ... 'when your kid is in there'
Fire Chief (ret.) Craig Daugherty recalled the day he responded to shots fired at the high school where his 15-year-old daughter was in lockdown
---
SAN ANTONIO, Texas — For many parents, learning that gunshots were reported at your child's school would prompt panic, fear and helplessness. It's a little different for first responders.
When San Juan County (N.M.) Fire Department Chief Craig Daugherty heard that shots had been fired at his teenage daughter's high school in December 2017, he immediately went into "dad mode" but quickly had to add "chief mode" to his next steps. 
During the Fire-Rescue International session "Active Shooter Planning & Response: When Your Kid Is In There," firefighters listened intently as Assistant Chief of Operations for West Chester (Ohio) Fire-Rescue Randall W. Hanifen outlined his department's extensive active shooter plan, with Daugherty punctuating those points with the emotional recounting of a traumatic day for his family, as well as the challenges of simultaneously commanding the event.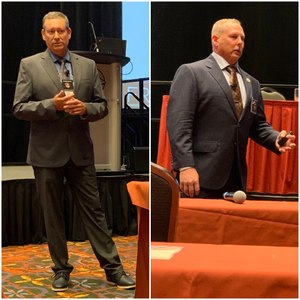 'This is real'
When initial reports of gunshots at Aztech High School first came in, Daugherty, who has since retired from the fire service, had a hunch it wasn't a false alarm.
"It's concerning, but we get calls of shots fired in those areas quite a bit, people duck hunting at the river right there in town, so shots fired was not a big deal usually," he said, "but this time I thought, 'This doesn't sound right.'"
Shortly after, dispatch began receiving 911 calls from school staff relaying more shots fired. The chief immediately called his daughter's cell phone and jumped into "dad mode," he said, instructing her and her classmates how to protect themselves before shifting into the IC mindset. 
"Holy crap, this is real," he recalled thinking. 
Prior to the incident, the San Juan County (N.M.) Fire Department had implemented a robust active shooter plan in coordination with the local police department that allowed law enforcement to immediately enter the school to neutralize the threat, followed by two fire rescue task force teams escorted by police to locate the two victims. 
Read the top takeaways from the educational presentation and leave your thoughts in the comments.
Top quotes
I always told my kids, 'You're not going to be a victim. You're going to fight.' So I started coaching her, as a dad should. I said, 'Hey, you guys grab the closest fire extinguisher to spray in the guy's face when he comes in the room. Everybody in the room get something to throw at this guy, you tackle him, beat the hell out of him. You guys win this. Don't be a victim.'" – Chief Daugherty
I could hear the fear in her voice. I hung up the phone and I immediately had my dad moment at that time. Like, holy crap, this is real." – Chief Daugherty
What you'll find, at least on the fire side and EMS, is [an active shooter scene] is truly just an MCI, it's just one in which they can shoot at us." – Asst. Chief Hanifen
In the fire service, every building fire you go to, what's the one thing you've got to do to stop the problem? Put the fire out. That's how you know you're winning. If you just put the fire out, it's over. Police have the same theory for the active shooter. They will just flood the building with as many officers as they can, and they will start listening to where the shots are coming from." – Asst. Chief Hanifen
Top takeaways
1. Exhaustive planning, preparation and training is critical
Coordinate with local police. Learn what their active shooter plan consists of and collaborate to incorporate fire and EMS response.
Impress upon law enforcement the critical need for EMS early in the active scene to identify victims and remove them from the hot zone for treatment and transport.
Stress the importance of interoperable communications for major events such as active shooter and MCI situations.
Consider implementing "EMS alarms" for active shooter plans that will increasingly ramp-up the medical response requested.
Ask key questions: What kind of ballistic gear will firefighters be required to wear? Will the gear be issued at a department level or an individual level?
2. Noted challenges of active shooter scenes
Difficulty getting all of public safety to operate on a single radio channel during the event for easier communication.
Confusion on scene as public safety converges for a coordinated response; police detectives and investigators, as well as other law enforcement members, working the active shooter scene while armed in plain clothing makes it difficult to determine who is a "good guy with a gun" and who is a "bad guy."
3. The role of the fire department after the threat is neutralized
Who handles reunification? Following the scene at Aztech High School, the school assumed first responders would facilitate and coordinate the effort to reunite children with their parents, so a plan was scaled up quickly.
Re-engage for mental health: In the days after the event at AHS, first responders reconnected with the students to decompress and heal together.