Photos: N.Y. agencies send personnel, equipment to help Buffalo after crippling blizzard
EMS providers and volunteer firefighters were deployed for a 72-hour shift and responded to 600+ calls on their first night
---
By Vicky Klukkert
The Daily Star, Oneonta, N.Y.
ONEONTA, N.Y. — Area volunteer firefighters, emergency medical technicians and highway department personnel headed to Buffalo on Tuesday for a 72-hour shift to help Erie County after a blizzard crippled the area over the weekend.
"On Tuesday morning we received a call from ( Delaware County) Emergency Services Director Steve Hood asking if anyone would be willing to travel to Erie County and help," Stamford Fire Chief Don VanEtten said.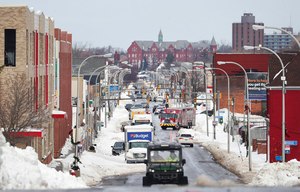 VanEtten said Erie County reached out to all the counties in the state to see if fire departments could help by bringing their UTVs or ARGO track machines to Buffalo.
Three members each from the Stamford, Trout Creek and Pindars Corners/ East Meredith fire departments and the departments' all-terrain vehicles left the Delaware County Public Safety Building at 3 p.m. Tuesday to travel to Buffalo for a 72-hour deployment, VanEtten said.
The Otsego County Office of Emergency Services announced Wednesday some of its county resources also deployed to Erie County on Tuesday.
According to a media release, Otsego County Special Operations Team members were activated to respond with the County ARGO, an 8x8 amphibious, extreme terrain vehicle, as part of the state Fire Mobilization & Mutual Aid Plan Activation. Otsego County Deputy Fire Coordinator and Advanced EMT Jeremy Hilton and Cooperstown Firefighter/EMT Michael Simons have been assigned to work with an EMS Task Force for a 72-hour deployment to assist with stranded residents or those in need of medical attention, the release said.
VanEtten said as soon as the three Delaware County departments got to Buffalo Tuesday evening, they reported to the emergency operations center and were assigned to different fire stations around the city to back up ambulance services. He said the first night Stamford was assigned to Buffalo Station 32, which is a ladder and engine company. He said Trout Creek and Pindars Corners/ East Meredith helped answer some of the 600 to 700 calls that went unanswered during the height of the storm. He said law enforcement responded alongside the ambulances to every call.
According to the Trout Creek Fire Department Facebook page, the department was assigned to the Engine 33 station and assisted AMR and Scarsdale on calls within a five-mile radius of the station.
"As of now we're the furthest eastern county to respond here in Erie County," he said. "There's a tremendous amount of streets not plowed. The track machines go where the ambulances cannot."
He said when the ambulance cannot go any further, the emergency medical technician is loaded into the ARGO or UTV and transported to the scene of the call. Then the patient is loaded into the ARGO or UTV and transported to the ambulance.
VanEtten said the department planned to be self-sufficient by bringing food and was prepared to spend the night on cots at the operations center but were put up in a hotel in downtown Buffalo instead. He said the three departments will return to Delaware County Friday morning.
In addition to sending two EMTs, Otsego County sent 10 Otsego County Highway Department personnel with various pieces of equipment to assist with the clearing of roadways and impassable streets, the release said. Equipment that was sent included: four tandem axle dump trucks, a John Deere bucket loader and two additional pickup trucks with plows. County highway crews were expected to work 12-hour operational periods each session from Wednesday to Monday, the release said.
___
(c)2022 The Daily Star (Oneonta, N.Y.)
Visit The Daily Star (Oneonta, N.Y.) at www.thedailystar.com
Distributed by Tribune Content Agency, LLC.
McClatchy-Tribune News Service