Storm preparedness proved to be lifesaving for Calif.
Lessons learned from past storms and preparations for Hurricane Hilary played a part in having zero fatalities
---
By Rong-Gong Lin II
Los Angeles Times
LOS ANGELES -- Days of preparedness ahead of Hurricane Hilary appear to have paid off in Los Angeles, with not even a single traffic fatality reported on city streets, despite L.A. getting the most rain it's had in a year.
Urgent pleas for people to stay home seem to have worked. California Department of Transportation data for Los Angeles and Ventura counties show that traffic on freeways during the peak of the storm fell by 30% compared with the prior Sunday.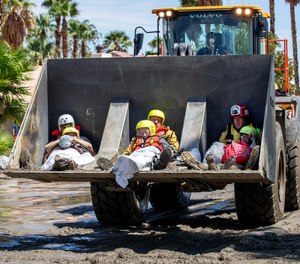 Downtown L.A. received more rain on Aug. 20, the day Hilary hit Southern California as a tropical storm, than any day since the water year began Oct. 1. The storm dumped 2.48 inches, exceeding the 2.29 inches downtown L.A. got on Feb. 24 during one of the winter's 31 atmospheric rivers that hit California.
By many measures, L.A. was far more prepared than San Francisco when it encountered its rainiest day of the water year. On New Year's Eve, San Francisco got an astonishing 5.46 inches of rain, resulting in significant flooding. Residents were furious about the lack of preparedness, and San Francisco Mayor London Breed tried to shift blame to the National Weather Service — despite meteorologists having issued flood watches three days before that dramatic storm.
The New Year's Eve storm proved deadly for Northern California, as many were caught off guard by the volume and intensity of the rain. The bodies of three motorists were found in floodwaters near where levees breached in the Sacramento County area; a man was killed by a falling tree at a Santa Cruz beach; and another man's body was found in an overflowing creek in San Jose.
By contrast, one person has been reported missing amid Hilary's floods, in a rural area well outside L.A.'s city limits. Floodwaters swept away the home of Christie Rockwood, 74, in the Seven Oaks area of the San Bernardino National Forest, which was inundated by fast-moving flows of mud smashing into homes.
The Coachella Valley was also hit hard. In one area of Cathedral City, torrents of mud trapped residents in their homes and required the rescue of 46 people. Significant damage to Death Valley could take months to repair before the national park reopens.
There are limits to how precise meteorologists can be in forecasting the specific path of a storm like Hilary. The track veered a little east of what was forecast, helping spare Los Angeles from the worst of the rain. Based on the forecast, there were chances the path could have shifted west and resulted in a more direct hit on Los Angeles.
It is notable there were no reports of Hilary-related deaths in the city, not even a traffic-related fatality, according to data from the Los Angeles Police Department, which does not include information from freeways. For comparison, there were 312 fatalities related to traffic collisions on city streets in 2022 — close to an average of one death a day.
L.A. Mayor Karen Bass was among those leading the charge in calling for preparedness. Two days before the storm hit L.A. County, she warned the public at a news conference: "Stay safe, stay home and stay informed."
In an interview, Bass credited Los Angeles Fire Department Chief Kristin Crowley for raising awareness of Hilary's threat three days before its arrival. Before the storm hit, the city's emergency operations center was activated, and Bass signed a declaration of a local emergency.
"Avoid unnecessary travel. If you do not need to be on the road, please don't get in your car," Bass pleaded ahead of Hilary's arrival.
The mayor said she thought the public listened. "The fact that there were no fatalities on our roads, I do think people heeded the call," she said in the interview.
City leaders increased staff to handle more calls in advance of Hilary's arrival and boosted available on-duty firefighters, police officers and public works employees, as well as specialized staffers, such as those trained in swift-water rescue. Urban search-and-rescue rigs also increased staffing, Crowley said.
Some may question whether all the preparation was worth it, given that a worst-case scenario didn't hit L.A., Crowley said. But "in my opinion, I think it was important that we had to prepare for the worst. ... And that was a win."
---

Read more:
Understanding the fire service role in disaster preparedness, response and mitigation efforts
Outlining the response responsibilities helps departments better prepare and train for large-scale incidents
---
With memories still fresh of a devastating wildfire that leveled the historic town of Lahaina on the Hawaiian island of Maui last month, Crowley said L.A. can learn from that disaster.
"Those are stark reminders of how fast moving a wind-driven fire can occur," Crowley said. "We know from historical perspective that that potential can happen here in the city with wind-driven fire."
Residents should be kept well-informed ahead of pending emergencies, and Los Angeles should practice what's needed for potential evacuations, Crowley said — including early evacuations.
She said tools to quickly communicate evacuations include text message alerts and public announcements issued from LAPD patrol cars.
"That's utilizing LAPD ... and having a launch point early enough [because] it takes time to evacuate," Crowley said.
It's also worth studying stationary sirens for Los Angeles, Crowley said. Beverly Hills is installing an outdoor warning siren system, comprising 12 sirens.
"Are there other standalone sirens where the city may want to look into investing? So we're already leaning forward on that, and from the lessons learned of what happened in Maui," Crowley said. "What other layers of protection can we provide the city? So we're already looking into that, and we'll be reporting back to make recommendations to city leadership."
Hilary has taught L.A. that even seemingly unimaginable natural disasters can be threats, Bass said.
"The biggest lesson learned is that weather events that we thought were not applicable in California, we now have to consider," including tropical storms and tornadoes, Bass said. "We have to look at these things different."
Times staff writers Grace Toohey, Hayley Smith and Brittny Mejia contributed to this report.
©2023 Los Angeles Times.
Visit at latimes.com.
Distributed by Tribune Content Agency, LLC.
McClatchy-Tribune News Service