Video: Chemical fire breaks out in Hurricane Laura aftermath
Residents have been ordered to shelter-in-place due to the fire and a chlorine leak in Westlake, La., which was hard-hit by the storm
---
By Laura French
LAKE CHARLES, La. — A chemical fire has broken out in a Louisiana city close to where the eye of Hurricane Laura passed Thursday morning. 
The Lafayette Daily Advertiser reports that the blaze at a chemical plant and a massive chlorine leak have led a highway to be closed and Louisiana Gov. John Bel Edwards to issue a shelter-in-place warning. Residents were instructed to close their doors and windows and turn off their air conditioners.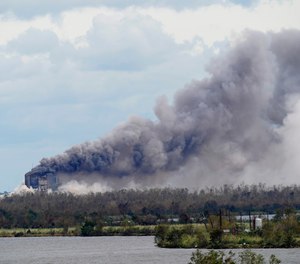 Louisiana State Police confirmed that personnel are working a hazmat incident in Westlake, La., just west of Lake Charles, which was in the direct path of the eye of the Category 4 hurricane. Police reported that the chlorine leak originated from a chemical manufacturing facility called BioLab. 
The facility produces household cleaners such as bleach scrub as well as chlorine powder for swimming pools, according to the Associated Press. 
It is unknown whether the blaze was caused by the hurricane, according to KHOU. 
Video shows smoke and gasses crossing over I-10 in Sulpher, Lousiana.
I-10 in Lake Charles.

URGENT!!! Fire on the west side of the lake. Gasses crossing I-10. DO NOT COME INTO LAKE CHARLES FROM SULPHUR. DO NOT DRIVE THROUGH THIS!!!! SHARE!!!!

Posted by Cajun Navy on Thursday, August 27, 2020
...and then this happened. Fire at a chemical plant in Westlake. Not sure what's burning or what caused it.

We noticed white smoke from our hotel room around 8am and thought nothing of it because, you know, we're surrounded by chemical plants... pic.twitter.com/hrLLxjXMWc

— Dalfred Jones KLFY (@DialDalfredKLFY) August 27, 2020
Video shows the potential chemical plant fire in Lake Charles. Evacuating during a hurricane isn't just about staying safe from storm surge. It's also about what can happen in the aftermath in the heart of petrochemical country pic.twitter.com/sSfddsqDyI

— Brian Kahn (@blkahn) August 27, 2020