Anchorage Fire Dept. promotes first female fire chief in city's history
Chief Jodie Hettrick hopes to encourage other women to become first responders
---
By FireRescue1 Staff
ANCHORAGE, Alaska — The city of Anchorage promoted the first female fire chief in its history.
Alaska Public reported that Anchorage Fire Department Chief Jodie Hettrick, a 6-year veteran of the department and 30-year fire service veteran, was recently made the official chief after serving in the position since the previous chief retired in May.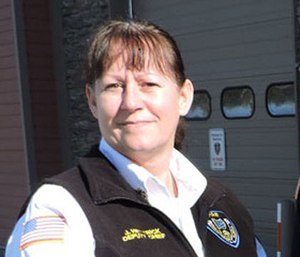 Chief Hettrick said she is proud to be the first female chief of the department and hopes to not only encourage other women to become first responders, but to act as a source of guidance to her female colleagues.
"Most of my mentors throughout the entire time I've been in the service have been men, because there weren't any other women in these positions to be mentored by," she said. "So I think that that's why it's a big deal. There should be more women in the fire service, so that more of them move up through the ranks and are given these types of opportunities."
Some initiatives Chief Hettrick plans to act on are expanding EMS management and increase staffing.
"Not that we were struggling there, it's just that as we do more and more emergency medical service response, we should have more assets in place to manage that operation," she said. "It's just a leap that we haven't taken, and we've needed to take that for a very long time."