Minority promotion criticism continues to follow Fla. fire chief
A new employee survey accuses St. Petersburg Fire Chief Jim Large of making sexist, racist and homophobic remarks
---
By Colleen Wright
Tampa Bay Times
ST. PETERSBURG, Fla. — A 2014 committee for then-Mayor Rick Kriseman's transition team recommended removing the St. Petersburg Fire Rescue chief for failing to promote minorities.
A new survey of city employees conducted earlier this year resurfaces some of those concerns. Several anonymous comments mention longtime Chief Jim Large by name and accuse him of not fostering an equitable workplace for minorities. They go on to accuse him of making sexist, racist and homophobic remarks.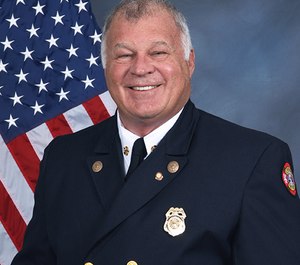 In an email, city spokesperson Erica Riggins said that city administrators are working through the survey feedback and developing plans of action at both the citywide and departmental levels to address any issues raised by employees.
She said Large, who has spent nearly 50 years with the department and who was promoted to fire chief in 2006, "has kept all administrations updated on diversity efforts and overall hiring challenges that have plagued the fire services industry at a national level, especially with the spike in retirements and job changes due to the pandemic."
Mayor Ken Welch, the city's first Black mayor, made "intentional equity" a central plank of his campaign and has continued to emphasize equal opportunity for all in office.
Former St. Petersburg Assistant Police Chief Cedric Gordon served on the Kriseman 2014 transition public safety subcommittee that recommended replacing Large and making administrative changes in the Police Department.
"There was nothing in that public safety report that implies that he should remain there," Gordon told the Tampa Bay Times. "To my recollection, nothing was done, no recommendations were implemented with the fire department. And here we are now."
Referencing his notes from that time, Gordon said much of the discussion centered around race, though the group hung its recommendation to fire Large on concerns about a policy that allowed firefighters to swap shifts. He said the committee suggested the African American community be involved in the selection process for a new fire chief.
"I'm not surprised," Gordon said about the employee survey comments. "I'm not surprised and I am disappointed that in 2023 nothing has changed."
According to the 240-page report by consultant Inclusivity LLC that was presented to city officials around July 4, the fire and police departments "employ a larger percentage of Non-Hispanic Whites" while Leisure Services and Public Works employ a larger percentage of African Americans. It also said employees for the fire department, as well as neighborhood affairs and public works, skew heavily toward males.
The report also found that reported incidents of inappropriate behavior by supervisors were significantly higher for the fire department and public works. A similar pattern also was found for inappropriate behavior by co-workers.
The Inclusivity report said 39% of employees who self-identified as working for the fire department responded to the survey.
"That pattern, you're talking 10 years ago, and it's still an issue now," said Bishop Manuel Sykes, who also served on the 2014 subcommittee with Gordon. "It's because the fundamental mechanism has not changed.
"If in 10 years the composition has barely changed, in hiring or promotion, then you know something is wrong," Sykes said. "If the data hasn't changed, if the complexion hasn't changed, then the culture hasn't changed."
Out of 78 officers who have supervisor duties in the fire department, only five are Black. The highest-ranked is Division Chief Fire Administrator Keith Watts, who was hired from Orange County. Comparatively, six members out of 15 police command staff at the St. Petersburg Police Department are Black.
Ernie Coney said he attended an August 2017 meeting with Large, then-Deputy Mayor Kanika Tomalin, and others from the fire department, including his relatives who were frustrated about the lack of diversity in the ranks. Coney recalled that Large said that he could not find any qualified Black candidates.
"Bottom line is, the man wasn't looking for diversity," Coney said. "He was looking to stack his own deck."
Tomalin told the Times that she remembered the meeting, but did not recall Large making such remarks. She also said she did not recall the specifics of the committee report and said Large was proactive and responsive on issues of race and diversity.
"I don't have a recollection that there was a problem," Tomalin said. "I know that we had a very proactive effort to ensure that succession plans, recruitment and matriculation through the ranks of the department to maintain ideal levels of diversity given attrition through retirement."
Coney, who is president of the Friends of Johnson Branch Library not-for-profit, said he also brought up issues within the fire department to Welch while he was campaigning for the mayor before his 2021 election. Coney said he brought up the issue again last month during the 100+ Black Men Victory Walk.
"Now that it's coming out, it's time for the man to go. It's past time for the man to go," Coney said. "(Mayor Welch) wanted to do that survey to see in fact. I guess he wanted to be a fair guy.
"He's a good guy and I know he's gonna do the right thing," he said.
©2023 Tampa Bay Times.
Visit tampabay.com.
Distributed by Tribune Content Agency, LLC.
McClatchy-Tribune News Service