Can fire chiefs without proper staffing protect communities?
Here's an in-depth look at how fire risk, firefighter staffing levels and fire prevention efforts intertwine
---
By Patrick Coughlin
Effective structural fire protection requires that fire departments quickly respond to fires with enough resources to stop the damage and remove occupants from harm. Structure fires present varying levels of risk, depending upon their size, type and use.
NFPA 1710 Standard for Organization and Deployment of Fire Suppression Operations, Emergency Medical Operations, and Special Operations to the Public by Career Fire Departments ranks structures by their level of fire risk, and expresses that risk by the number of firefighters needed to effectively stop life and property loss.
It sets requirements for company crew size and the number of companies deemed to be an effective response to fires in four categories of structures. It also sets travel time requirements for the first-due company and the full assignment on first alarms.
Most fire departments do not comply with 1710's crew size requirements. NFPA reports that few of them staff their companies with the minimum of four firefighters. Fewer yet meet the response time requirements.
The obvious solutions are to add firefighters and build more stations. But city leaders resist such budget increases, citing that fire suppression is the least of fire department activities, an NFPA trends in fire loss report says.
Fire chiefs in those situations have two choices. They can try to improve the effectiveness of their current resources or reduce the level of risk that structure fires present.
1. Better use of existing resources
Fire chiefs can take three steps to make existing resources more effective: dispatch more firefighters, delay fire growth with transitional attacks and reduce response time.
The first option is to dispatch more firefighters on first alarms to make up for smaller crews. Two studies have looked at the impact of doing so.
The National Institute of Standards & Technology conducted simulated fires in single-family homes and high-rises. The results of both studies showed that the longer response times of additional companies negated their impact on suppression effectiveness.
Many fire departments do a brief exterior attack to slow fire growth and improve interior conditions while gathering enough firefighters to mount an interior attack. However, the tactic is limited to smaller occupancies like single-family homes where the fire has vented, exterior walls are accessible and firefighters can quickly direct a straight stream into a burning room.
Response times have two basic parts. The first is alarm handling time, or the interval between a fire report and alerting fire companies. The second is turnout and travel time needed to reach fire scenes. Fire department dispatchers and public safety answering points control the former, and fire departments control the latter.
Getting there
The dispatch system for my hometown of Shawnee, Kan., is a model of fast alarm handling. The Shawnee Police Department is my PSAP. Its call transfer time averages 20 seconds, well under the 30 seconds required in NFPA. Fire calls go to the Emergency Communications Center, which dispatches all of the county's 10 fire departments.
The ECC reduces response times with a computer-aided dispatch system that tracks the location and status of every fire company in the county.
If I report a fire in my home, the system displays my address on screens at the call taker and dispatcher stations. At the same time, the system selects the companies to respond and displays the information for the dispatcher.
The dispatcher checks another screen showing any fire companies that are out of quarters, changes the CAD selection if other companies are closer than the assigned stations. A countywide automatic aid agreement enables the ECC to cut response times by sending the closest companies regardless of jurisdiction.
The elapsed time from call receipt to dispatch averages 39 seconds, much faster than the 64 to 106 seconds required in NFPA 1710.
The standard travel times are 4 minutes for first-due companies and 8 minutes for full assignments. Very few fire departments meet those requirements because their stations are too far apart.
In my case, Shawnee Station 71 is 2.8 miles from my home and Overland Park Station 46 is 4.5 miles away. According to the ECC, the travel times from Station 71 and Station 46 are 6:03 and 8:10, respectively.
Figure 1A contains the timeline for NFPA 1710's response times. Basically, fire departments that complete those actions within the designated time limits comply if they do so for 90 percent of fire calls.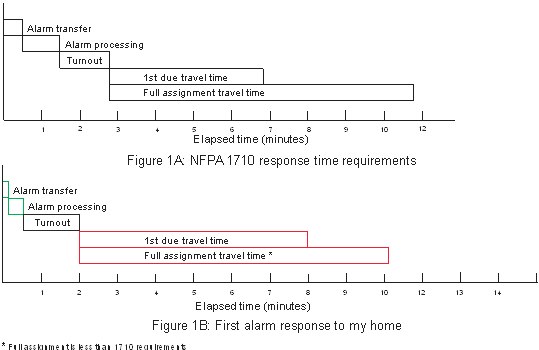 Figure 1B is the timeline for a first alarm response to my address. My fire department does not yet measure turnout time, so I used the same elapsed time as the standard.
The green boxes indicate that those elapsed times are shorter than 1710's requirements. The red boxes indicate that the elapsed times exceed those in 1710. It shows that the time saved in alarm handling cannot make up for the longer travel times.
The travel times for my fire department are very typical of U.S. fire departments. For example, The International Association of Fire Fighters surveyed the 50 most populous cities and found that 34 percent of them do not meet the standard's 240-second travel time requirement for first-due companies 90 percent of the time.
According to IAFF, the same percentage does not meet the 480 second requirement for full first-alarm assignments. In general, travel times to any structures more than 2 miles from fire stations will exceed the requirements.
If you do not have a geographic information system that can estimate fire company travel times, the following formula will work. Where TT equals travel time and TD equals travel distance:
TT = 0.65 + (1.70) (TD)
2. Reduce the risk
Again, NFPA 1710 expresses structural fire risk in terms of the demand that structure fires place on firefighters and equipment. The higher the risk, the greater the demand — and thus the need for more firefighters and companies.
Fire departments can reduce that demand with community risk reduction programs and fire codes that require automatic fire suppression in structures where the risk outweighs resources.
Community risk reduction combines traditional fire prevention activities — plan review, fire inspection and public education — with requirements for automatic suppression that exceeds the minimum building and fire code requirements.
The equation below describes their roles and relationship to manual fire suppression. Fire risk (FR) is a combination of three factors expressed in the equation:
FR = (P1) (P2) (P3), where,
        P1 = probability of a fire starting.
        P2 = probability of a fire growing from its container or area of origin.
        P3 = probability of a fire harming people and property.
Fire departments have three tools for reducing each of the fire risk elements: public education, code adoption and enforcement, and manual suppression. Each mitigation method is the primary means of reducing the three parts of fire risk, as shown in Figure 2.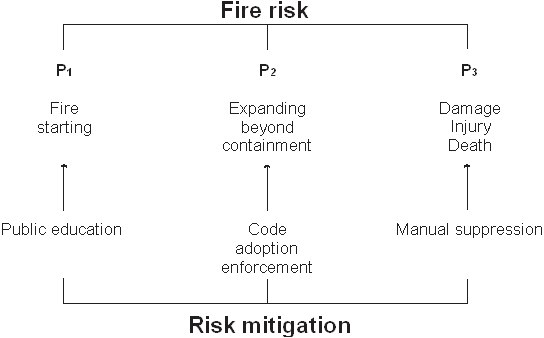 Improving risk reduction effectiveness
There is abundant evidence that community risk reduction (CRR) can be effective. Vision 20/20 is a national project that supports CRR initiatives and has case studies of successful programs ranging from public education to installation of smoke alarms and sprinklers.
Public education is the primary mitigation tool for reducing the number of fires. We use it to inform people about fire dangers and reinforce behaviors that will stop fires from starting, along with actions to take when fires occur. Code enforcement also helps reduce P1 but is not the primary means, and manual suppression plays no role at all.
Effective public education reduces the number of fireground tasks. When people report fires without delay, the fires are more likely to be contained when firefighters arrive.
When people evacuate immediately, search and rescue may not be needed. Closing doors and accounting for other occupants who have escaped are other examples.
Code enforcement includes plan review and inspections, and is the primary means of reducing P2. Effective code enforcement programs adopt the latest editions of building and fire codes, and adopt additional sprinkler requirements that target specific community fire risks. Public education and manual suppression also play a role, but are secondary to code adoption and enforcement. 
The bulk of building code requirements are related to fire safety, ranging from approved building materials to exit capacity. Plan reviewers can discover problems and get them corrected.
Field inspections during construction assure that the builders erect the buildings per the plans. Field inspections after occupancy catch and correct code violations before they cause fires or contribute to fire spread.
Fires that occur in buildings that comply with building and fire codes are more likely to contain flame and smoke spread, which will reduce the number of fireground tasks.
Why sprinklers
Automatic suppression is the most effective way to reduce the number of manual fire suppression tasks. According to NIST, sprinklers operate before fires reach flashover, and thus significantly reduce the number of manual suppression tasks in all types of structures.
The benefits of automatic suppression are not limited to cities with new growth. Fire sprinklers can also help fully developed communities work toward a balance between fire risk and resources.
For example, the Village Fire Department serves seven cities in the suburbs of Houston. All of the cities witnessed a trend to tear down and replace older homes in order to cut the time commuting to and from Houston. Each city requires sprinklers in new homes, so the majority of the homes will eventually have sprinkler protection.
Manual suppression is the primary means of reducing P3, but as noted, public education and code enforcement also play key roles in reducing the number of fireground tasks.
The NFPA survey on fire department needs found that CRR and code enforcement are severely lacking. While the survey results for CRR did not distinguish between career, combination or volunteer departments, it shows that fire departments in general do not reap the benefits of CRR and automatic sprinkler requirements.
Here are some key findings from that report.
35 percent of departments do not provide a school fire safety education program based on a national model curriculum; independent data suggest the actual need is far greater.
49 percent of departments do not provide plans review.
52 percent of departments do not have a free smoke alarm program.
72 percent of departments do not provide permit approval.
72 percent of departments do not do routine active systems testing.
81 percent of departments do not have a juvenile fire setters program.
24 percent of departments do not conduct fire-code inspections.
Five-step plan for effective CRR
Every fire department can benefit from effective CRR, whether they comply with 1710 or not. The following steps can help maximize the effectiveness of CRR and sprinkler codes.
1. Identify risk
Identify the level of structural fire risk and the availability of manual fire suppression resources. Categorize structures according to the number of firefighters needed for manual suppression per 1710's requirements.
Create a color-coded map to see which structures are within the 1710's travel time requirements.
2. Adopt high standards for CRR
I recommend that fire departments set their CRR goals at no less than zero life loss and zero fires reaching flashover. It is practically impossible to achieve those goals, but that is not the point.
To illustrate the real point, consider how the Japanese auto industry used a similar approach to improve auto quality and outsell U.S. carmakers in the 1970s.
They adopted the goals of no production defects and no repairs needed in the first year of ownership. They constantly analyzed results to identify ways to improve quality in the most cost-effective way.
As a result, they produced cars that were of higher quality, more reliable and sold for less than their U.S. competitors.
3. Train CRR personnel
Train and equip CRR personnel to meet their competency standards, just as you train firefighters to meet theirs.
Firefighter job descriptions contain the knowledge, skills and abilities they need to do their job. The job descriptions for public educators, plan reviewers and inspectors should do the same.
4. Push for sprinklers
Use the risk survey results to win residential sprinkler requirements by showing how they enable the fire department to be more effective with existing resources.
5. Use quality control
Use quality control to constantly improve results. Appoint a quality control officer to do forensic reviews of fire incidents to determine the factors that led to each outcome.
Examples are human behavior that contributed to the fire, lack of code compliance, inspection errors, etc. Use the results to select CRR programs that will improve future outcomes.
NFPA 1710 recognizes the value of CRR and sprinkler requirements, stating, "While NFPA 1710 is scoped to focus strictly on deployment, staffing, and service levels, it is one component of a total community fire protection planning process. An AHJ can determine other components that could reduce the risks of fire and adopt stronger building and fire prevention codes, enforce those more vigorously, and enhance public life safety education components."
The standard does not link the role of CRR and sprinkler protection in reducing the number of fireground tasks. Yet, they clearly are linked. Fire chiefs who employ them can improve public and firefighter safety in a cost-effective manner.
About the author
Pat is a retired fire chief who served on career and volunteer fire departments. After retiring, he was the executive director of the Residential Fire Safety Institute, and a regional manager for the International Code Council. He is an international speaker on residential fire sprinklers and managing community fire risk. Pat has a bachelor's degree in sociology from Purdue University and a master's degree in sociology/public administration from the University of Minnesota. He is also a graduate of the National Fire Academy's Executive Fire Officer Program. Pat operates the blog site Excellence in Fire Protection.