How 1 firefighter beat PTSD
With his life nearly destroyed and suicide his only option, firefighter Scott Geiselhart grabbed a lifeline
---
Firefighter Scott Geiselhart, a 20-year veteran, was at his wit's end when he put his most reliable revolver to his head. He was alone, angry, isolated from friends and family, a heavy drug user and tormented by nightmares.
When he pulled the trigger, there was only a "click." That was two years ago and to this day he has no idea why the gun didn't fire. That was one of two times he was ready to take his own life.
The second time came shortly after he learned that he had post-traumatic stress disorder. He burst in on his estranged family, manic with the news that the years of abuse he'd doled out wasn't because he was crazy — there was a reason.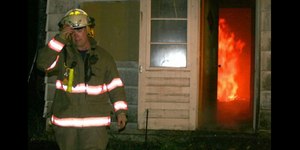 When they recoiled, he retreated to his auto repair business and phoned a police officer he knew to ask that he explain his condition to his family. The officer said he was coming over to take him to the hospital, then jail.
Geiselhart got out his acetylene tanks and an automatic rifle. He wasn't going anywhere. As he waited, he made three phone calls. The first was to a suicide helpline; after 12 tries there was no answer. He called another hotline that offered him an appointment 10 days later; he didn't think he'd live that long.
His third and last call was to the Share the Load program, where he talked to someone who got it.
Accumulating trauma
Geiselhart will bring his personal story and ideas for how to help other suffering firefighters to the International Association of Fire Chief's first Symposium in the West conference in Reno, Nev. May 13 and 14.
One of the more compelling parts of his story is that he doesn't work on a large metro fire department where major traumas are commonplace; he works for a paid-on-call department in rural Minnesota.
As an auto mechanic, it's not surprising Geiselhart would specialize in extrication. And 20 years of cutting people out of cars wore him down.
One, in particular, stands out. A woman was showing him necklaces for his girlfriend. Eight hours later, he saw the one he planned to buy lying on a battery he was about to cut; the woman was dead inside a badly mangled car.
Years later, he would learn it was that incident that triggered him to grow angry every time he saw a woman's necklace.
"The nightmares kept getting worse and worse," he said. "The alcohol turned into meth. I was angry all the time with my kids and my girlfriend; I thought I had a split personality and I was going to hurt them."
Downward spiral
Yes, that was meth he got hooked on. He was buying it by the ounce and snorting a line every hour to keep from sleeping, because sleep meant more nightmares.
"I stayed awake for two years," he said. "Every time I shut my eyes, I'd snap out of it and get some meth."
That came to a head when he made his first attempt at suicide in July 2014; he reasoned it was the only way to protect his family from himself.
When the pistol didn't fire, he began searching his symptoms online and kept seeing PTSD.
"I didn't think we could get it," he said. "I thought that was just military. We don't see that bad of stuff."
Share the Load counselors put him in touch with a psychotherapy program known as eye movement desensitization and reprocessing in his area. There he began sessions to draw out memories he'd long suppressed.
Under the rug
A big part of the problem for Geiselhart was that his department didn't do debriefings. And with not being able to talk about it with friends or family, those traumatic events were shoved into the recesses of his mind, he says.
"The basket can only get so full before it explodes," he said.
Geiselhart now spends his time traveling to fire departments and fire service gatherings talking about suicide and PTSD. For the most part, he's been well received and had many firefighters tell him they share similar feelings and experiences.
However, not everyone is on board.
He's run into some hard-nosed chiefs who don't want him coming into their fire hall to talk about PTSD and suicide. "It's the old 'suck it up buttercup' thing," he says. "We can't talk about this at the bars like we used to and we're told not to say anything to our spouses. You just can't keep this inside you.
"What's frustrating is that we train and train on everything at the fire department, but when it comes to PTSD, nothing. Our training has tripled in the last 10 years and nothing on mental health."
Fixing it
There are steps that can be taken at the national and local levels to help firefighters with PTSD. And it begins with recruits.
"They have to have mental health included in the training from day one," he said. "It should be taught for at least an hour a year, to refresh the memory."
He is also pushing for suicide classes that teach firefighters how to prevent it and recognize the signs in themselves and others. Those signs include anger issues, isolation, increased alcohol and drug use and change in interests.
"I went from an assistant chief to a yellow helmet in two months," he said. "Stopped going to trainings and meetings; I made excuses for everything."
In short, he says, he was very good at fooling everyone except his family. And when they reached out to the fire department for help, no one believed that Geiselhart was as out of control as they said.
Geiselhart says it's key for volunteer and on-call departments to have debriefings and make sure professional help is available. Peer support is also huge, he says, especially if the only available mental health professionals have never been in emergency responders' shoes.
Geiselhart credits the six months he did in EMDR therapy for getting him off meth and freeing his mind of the ghosts of traumas past. In fact, he kicked meth cold turkey after his first EMDR session. And over the next few months he began sleeping more and the nightmares faded.
"I haven't been angry in over 20 months," he said. "It's a pretty amazing feeling. It's like being a year and a half old and seeing everything for the first time."
"Now I go out and talk to people about what happened to me. I can't shut up about it. I'm awesome; it's a whole different life. I smile all the time." 
This article, originally published April 29, 2016, has been updated