How to thank a warrior for their service
When a thank you seems inadequate, explore other ways to appreciate the service of America's service members
---
By Liz H. Kelly, FireRescue1 Contributor
While many intend to show gratitude to a veteran by saying, "Thank you for your service," they may be surprised to learn that this often-used statement is not always received well. So, what is the best way to thank a warrior (military, veteran, law enforcement, firefighters, EMS and first responders)? Warriors Heart Clinical Director, Annette T. Hill, recommends a more sincere and genuine approach.
Annette is a Gold Star Mother and trauma expert, who works closely with our warriors treating their addiction and trauma. In describing what constitutes warrior-protectors, Annette explained, "A warrior is someone whose job it is to run into the crisis when everyone else is running out."
Warriors includes first responders, and Annette provided more insights on this group. Many veterans, after separation from the military, become law enforcement officers and firefighters. These jobs bring similar challenges by working in high intensity environments "on the frontline."
In addition to her role as Clinical Director for Warriors Heart residential treatment program for addiction and PTSD, Annette is a volunteer clinician for Operation Freedom Bird, supporting 50 combat vets on an experiential Healing Journey to Washington D.C. annually. The goal is to reduce symptoms of PTSD, unresolved grief and moral injury. One question they discuss is, "How do you feel when someone you do not know says, 'Thank you for your service.'" To the staff's surprise, this one question continues to result in some of the most contentious debates of the four-day Healing Journey.
When we asked Annette to expand on these feelings, here are the insights she provided that will make us all pause before saying "Thank you for your service" to a warrior.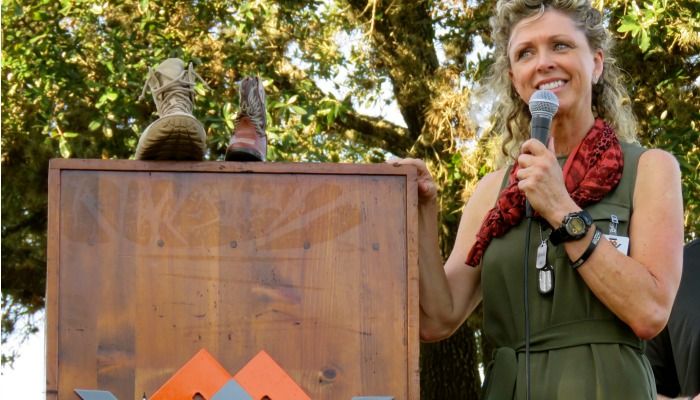 (Courtesy photo)
1. Does this feeling vary for veterans based on their combat theater?
AH: Yes. For example, we often hear the Vietnam veteran say, "Oh sure, where were you when I came home from war? Not thanking me then, were you? No, you were too busy throwing stones at me and calling me a 'baby-killer!' Some older vets, who have matured, will realize the giver of such gratitude now has learned from the horror our nation put its Vietnam veterans through, and as much as the lack of any gratitude used to sting, people are now trying to do the right thing. To the younger veterans who fought in Iraq and Afghanistan, it seems about 80 percent struggle and 20 percent are ok with the expression of gratitude.
2. Why do so many veterans become law enforcement officers and firefighters?
AH: These are like-minded careers, purpose-driven, in service to others, and for a cause greater than themselves – all wrapped up in the potential for high intensity. One is surrounded by those who would sacrifice for you and have your back. The level of trust and bonding that some say causes them to be closer to their workmates than their spouses. This like-minded support was the foundational rationale behind the creation of Warriors Heart. It is solely dedicated to warriors healing warriors. In this peer-to-peer program, people truly understand their pain.
3. What should civilians say to extend their gratitude?
AH: I think it is a matter of expressing one's thanks with sincerity and some humility. Here are a few suggestions:
Thank you for all you do, for the sacrifices you make to defend us.
I will always feel greatly indebted to you for your willingness to serve and protect us.
I want to give you my gratitude for your willingness to sign on the line.
Thank You for being willing to sign on the line to do this job, not sure I could do that.
Thank you for being willing to do this job that brings with it everything that it does.
4. What does it mean to "sign on the line?"
AH: To be in the military means you are not a civilian anymore, your life is not your own. When an order is given, it must be followed or there will be consequences, up to and including military prison. When you thank a warrior, you are expressing gratitude for their dedication to serve and acceptance that there may be high costs, even the ultimate cost.
We continue to be surprised to learn how much the statement may be very upsetting to our warriors. This upset often remains unknown to the giver of such gratitude.
Many veterans are still dealing with trauma. The frequent thought is, 'You don't know what you are thanking me for! You have no idea what I have done in combat.' War creates circumstances of unimaginably horrific choices. Choices that must be made in a split second, such as who lives and who dies. Police officers, firefighters and EMTs are all put in critical moments where there are only catastrophic choices. Most of us cannot imagine having to do this once in a lifetime, much less, day after day, year after year. Often what remains is deep psychic pain, self-doubt and shame. Sometimes a veteran who remained stateside, never seeing combat, may feel guilt when receiving such thanks because they see themselves as getting gratitude for the people who did fight on the front lines.
About the author
Annette T. Hill (MC, LPC, NCC) is the Warriors Heart Clinical Director in Bandera, Texas, near San Antonio. She is a Licensed Professional Counselor, Nationally Certified Counselor, and EMDR Certified Therapist. Annette has a private practice and has 15 years of experience as a dual diagnosis therapist in residential treatment settings, including The Meadows, and eight years with Journey Healing Centers' Sundance Center.