How the job we love is (still) killing us
Identifying the top three manners of death for on- and off-duty firefighters
---
By Kevin Freier
Growing up, my two biggest heroes were firefighters. There was Grandpa Warren, a seven-year veteran of Racine (Wisconsin) Fire Department's Engine 9, and Mr. Jim, my childhood neighbor and 20-year veteran of Baltimore City's Truck 30. Both were hardworking public servants who put their lives on the line for their communities day in and day out. Unfortunately, it wasn't only their diligence and selflessness that they shared – both died of service-related cancer.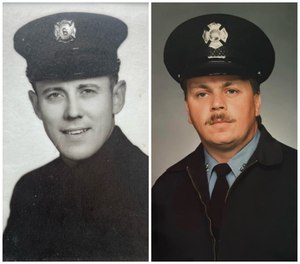 It's no secret that firefighting is a dangerous profession. Hell, most of our firehouses probably display some kind of tribute to the 343 who experienced this occupational danger firsthand on a crisp September morning back in 2001. But with all the talk these days about cancer, responder suicide, line-of-duty deaths (LODDs) and other hazards, the question must be asked: Just how dangerous is firefighting, really?
According to the U.S. Department of Labor, firefighting is the ninth most dangerous job in the United States, behind occupations like farming, garbage collection and delivery driving. In 2022, 96 firefighters died in the line of duty. For comparison, 118 police officers and 1,009 active-duty military members died in the line of duty that same year. But unlike cops and Marines, we aren't usually dodging gunfire and artillery on shift. So, what is actually killing us?
Firefighter causes of death
A study conducted by the NFPA found that the three most prominent causes of on-duty firefighter deaths are sudden cardiac arrest, vehicle accidents and fire. The three most prominent causes of off-duty (to include retired) firefighter deaths are cancer, suicide and heart disease.
On-duty death cause #1 – Cardiac arrest: Sudden cardiac arrests account for 51% of all on-duty deaths. Usually caused by overexertion, the physical stress of certain high intensity activities, such as fighting fire and or PT, can aggravate underlying conditions. As a result, firefighters may suffer serious medical emergencies, such as myocardial infarction (MI) or stroke, that often prove fatal in the form of sudden cardiac arrests.
This year, 34 of the 49 LODDs have been due to sudden cardiac arrest, including Lieutenant Jan Tchoryk of the Chicago Fire Department. While fighting a high-rise fire in early April, Lt. Tchoryk suddenly collapsed and was pronounced dead shortly thereafter. An autopsy revealed that he died of sudden cardiac arrest due to aggravated hypertensive-arteriosclerotic cardiovascular disease.
Some best practices to avoid cardiac arrest: staying hydrated, eating a balanced diet, limiting tobacco and alcohol use, exercising daily, seeing your doctor regularly, getting adequate sleep, and lowering stress levels.
On-duty death cause #2 – Vehicle accidents: Vehicle accidents account for 24% of all on-duty deaths. They are usually caused by either a firefighter being struck by a passing vehicle while working in the roadway or a fire apparatus being involved in an accident while responding to and/or returning from a call.
A recent FEMA study found that 550 firefighters were injured and 15 were killed due to vehicle accidents alone in 2020. Most of those deaths involved a firefighter being hit by a passing vehicle. Just one example: In October 2018, Hanover County (Virginia) Fire-EMS Lieutenant Brad Clark was hit and killed by a tractor-trailer while working a MVC on the side of the interstate. Witnesses say that moments before the truck struck Clark's engine, he called for his crew to take shelter and in turn saved their lives.
Some best practices to avoid roadway hazards: utilizing proper blocking techniques, downgrading responses for lower-acuity calls, and always maintaining situational awareness on the roadway.
On-duty death cause #3 – Fire: Fire accounts for 8% of all on-duty deaths. Caused by either asphyxiation or burns, fire-based deaths are usually due to equipment failure (mask malfunctions), medical emergencies (passing out), loss of structural integrity (falling through the floor), human error (getting lost) and/or rapidly changing fire conditions (flashover).
According to the U.S. Fire Administration, in 2021, 141 firefighters died while on duty, 34 of whom died of fire-related causes. This number includes Frederick County (Maryland) Captain Joshua Laird. While fighting a "McMansion fire" in Ijamsville, Maryland, in early August 2021, Captain Laird fell through the floor and became trapped in the basement. Despite the crew's best efforts to rescue him, he ultimately succumbed to smoke inhalation-induced asphyxia, but not before transmitting one last heartbreaking goodbye to his family.
Some best practices to avoid such fire-based LODDs: proper PPE application (that includes buckling chin straps and waist belts), sounding floors, paying attention to changing fire behavior, not freelancing, and establishing proper RIT procedures.
Off-duty death cause #1 – Cancer : A 2022 study conducted by the CDC found that cancer is the new leading cause of death among firefighters. This includes on-duty and off-duty members and even retired personnel. Since then, 75% of the 469 names added to the IAFF's Fallen Firefighter Memorial have been due to cancer.
Firefighters are 9% more likely to contract cancer and 14% more likely to die from cancer when compared to non-firefighters. A recent NIOSH report found that the most common forms of service-related cancer are mesothelioma, testicular cancer, esophageal cancer and leukemia. In terms of mortality, mesothelioma has a 10% five-year survival rate, testicular cancer is at 99%, esophageal cancer is 20%, and leukemia has a 65% five-year survival rate.
As most of us are probably aware, service-related cancer is usually contracted through contact with carcinogens like polycyclic aromatic hydrocarbons (PAHs). These deadly carcinogens can be found in smoke, exhaust fumes, Class B foam and even our bunker gear. This means we are constantly surrounded by cancer-causing chemicals while on shift – and must take steps to protect ourselves.
It is no surprise that both Grandpa Warren and Mr. Jim contracted cancer after a collective almost 30 years in the fire service, especially since they fought the majority of their fire back in the days of rudimentary air packs and salty gear. But regardless of the PPE and cancer-prevention advances we have made since then, the threat remains. Construction materials have only become more toxic and chemicals more advanced. Grandpa Warren died of leukemia on June 3, 2003, and Mr. Jim died of esophageal cancer on Jan. 22, 1999.
Some best practices to avoid occupational cancer: properly decontaminating gear/tools, showering after fires, getting regular ultrasound check-ups, keeping gear stored outside of living quarters, and staying on air in IDLH environments.
Off-duty death cause #2 – Suicide: A study conducted by the Firefighter Behavioral Health Alliance found that 80 firefighters died by suicide in 2022. That is only 16 fewer than the total number of LODDs that year and likely only accounts for a fraction of the real number, considering there is no national database that officially tracks firefighter suicides.
Trauma, depression, PTSD, alcohol/drug addiction, and a lack of adequate mental health resources are some of the main reasons why firefighters are three times more likely to commit suicide than civilians. Tim Casey, a firefighter/paramedic with the Colorado Springs (Colorado) Fire Department, documented his struggles with mental health and suicidal ideations on his YouTube channel. Featured in the powerful documentary, "The Final Call: Why Firefighters Commit Suicide," Casey spoke about the horrible things firefighters see on a daily basis and the mental toll that they take on us. Despite his and others' best efforts, Casey died by suicide on July 31, 2015.
Some best practices to consider: asking for help, forming peer support groups, seeing a therapist or counselor, looking out for each other, developing healthy coping mechanisms, and avoiding drug or alcohol abuse.
Off-duty death cause #3 – Heart disease: Heart disease accounts for 45% of all firefighter deaths. Different from the aforementioned cardiac arrests, heart disease refers to more chronic cardiac conditions, like congestive heart failure and atrial fibrillation – conditions that develop over time and are spurred by things like stress, unhealthy eating habits, and genetics.
Similar to cardiac arrests, stress plays a vital role when it comes to heart disease and firefighters. However, this kind of stress isn't physical. Cortisol, a hormone that is released in our bodies during stressful events, has been directly linked to heart health. Studies show that people with higher levels of cortisol tend to be at higher risk for heart disease as increases in cortisol are correlated with unhealthy blood pressure, triglycerides, cholesterol, and blood sugars. Therefore, people who regularly work in high-stress environments, like firefighters, tend to have a much higher risk of developing heart disease.
Firefighter Matthias Wirtz of the North Haven (Connecticut) Fire Department is one such example of the toll heart disease can take on firefighters. A 22-year veteran of the fire service, Firefighter Wirtz was pumping a two-alarm fire in December 2022 when he experienced a medical emergency on scene. He was quickly transported to a local hospital where he died of complications associated with hypertensive-arteriosclerotic cardiovascular disease.
Similar to cardiac arrests, some best practices to stay healthy: eating well, exercising regularly, sleeping (this cannot be over-stressed), taking care of your mental health, lowering personal stress levels and seeing your doctor regularly.
Dangerous or not?
There is no doubt that firefighting is a dangerous job, but when it comes down to brass tacks, many of our biggest risks are unexpected to some and require personal accountability to address. The carcinogens, the trauma, the cholesterol, and all the other indirect killers are what hurt most of us, more than the fire or a structural collapse.
The question remains: Just how dangerous is firefighting, really? Like many things in life, if you do not take the necessary precautions, firefighting is incredibly dangerous. But if you decon your PPE, exercise regularly, get some sleep, see a therapist and maintain situational awareness, firefighting is a lot less dangerous. So put down the bacon cheeseburger and go wash your gear because when it comes to things like cancer, suicide and heart disease, we are the only ones who can save ourselves.
---

Read next:
'We regret to inform you': How to support LODD families
Two military-focused books can help fire service leaders support the families of fallen firefighters
---
About the author
Kevin Freier serves as a full-time career firefighter/EMT with Albemarle County Fire Rescue and as a volunteer with the Barboursville Volunteer Fire Company in Virginia. A third-generation firefighter, Freier is a member of the Albemarle hazmat team and peer support group.