'Time is precious': FDNY's Regina Wilson prioritizes her purpose
Encouraged to join the department by a group she now leads, Wilson hopes to elevate the role of diversity in hiring practices
---
Regina Wilson was working in the accounting office at a utility company when she attended an event called Black Expo in New York City. As she roamed among the various vendors of clothes, shoes, art and other offerings, she noticed a table being staffed by members of the FDNY.
"I was talking to a female firefighter," Wilson recalls. "She was telling me about the job, and she told me that there were not many black firefighters or women." Wilson was intrigued and curious. She signed up to receive further information but "I didn't really take it too seriously after I left the table."
But those who were recruiting her did take it seriously.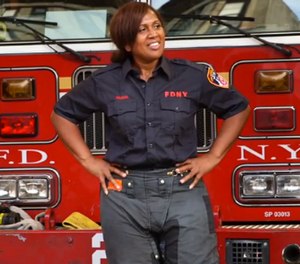 Advocating for change from the inside
Today, Wilson is a 24-year veteran of the FDNY and past president of the United Women Firefighters (UWF) group. She's also in her second term as president of the Vulcan Society, an organization that advocates for Black firefighters – the first woman to hold that position in the organization's 83-year history.
"The United Women Firefighters and the Vulcan Society were the two groups that stuck with me and let me know that they wanted me as part of the department; they really invested in me," Wilson said. "These people all believed in their profession and what they do, and they were trying to share it with me. I thought I should at least take some time to look into it. That's what convinced me to do it, and I haven't looked back since."
Wilson credits the two organizations for both her personal career success, as well as the recruiting success of the FDNY, highlighting the department's current historic high numbers of women and people of color among its ranks.
"It could not have happened without those organizations," she said. "I've been able to give back and help people to feel the same way I did and have the successes that we've had."
Still, she acknowledges there is a lot of work yet to be done. The FDNY currently employs 142 women, which represents less than 1.5% of all members. Black firefighters comprise around 9% of the department, despite Black individuals accounting for 25% of the city's population. Hispanic and Asian members are similarly underrepresented compared to the city's population demographics.
The Vulcan Society has taken a leadership role in supporting black firefighters on the FDNY, but its mission encompasses much more than that. The organization also runs community tutoring programs, does outreach for fire safety in underrepresented neighborhoods, distributes food and toys during the holidays, and provide clothes and haircuts to unhoused city residents.
The group also provides training for prospective firefighters, including physical fitness training, support for upcoming exams and mentoring of candidates through the hiring process.
The Vulcan Society has also filed several lawsuits against the FDNY on behalf of its members, which, Wilson says, is "the only thing that gets the department to move." The suits generally focus on removing discrimination from hiring practices and promoting diversity of candidates. The group is currently in the remedy phase of its fourth lawsuit.
Succession planning for the future
Looking ahead, a major focus of Wilson's current tenure as president of the Vulcan Society is succession planning.
"We need to be focused that everyone [on the executive board] is equipped for leadership," she said. Wilson and others are working to increase transparency in how the organization is run so those in supporting roles can step up and lead the group as needed.
While Wilson is focused on her fire department career, including promotional testing, she is also considering long-range options post-FDNY, including potentially entering city politics.
"I want to become a council member so I can get on the fire and emergency committee and make sure we're holding this department accountable," she said. "The biggest challenge for the department is the way they exclude more than they include; they don't make a concerted effort to make this opportunity readily available to everyone."
The personal impact of a fire service career
Reflecting on her career to this point, Wilson recalls two events that shaped her as a person and revealed her purpose as a firefighter.
The first was a fire where she suffered second- and third-degree burns on her knees. She was off the job for several weeks and "the only thing I could think about was getting back."
The other life changing event was September 11, 2001.
"The reality of the pain of this job came on the day I got burned, but the spirit – what I could do and how much of a difference we all make as first responders – happened during 9/11," Wilson said. "It was an awakening for me, and it helped me see who I am as a person and what this department represents."
The experience impacted her significantly and is something she gathers strength from during difficult incidents.
"I saw the best of who we are during 9/11 and that's a feeling I never, ever want to forget," she said. "Even though we have dark days, I know that my community [at the fire department] is willing to risk everything for someone they don't know. It taught me a lot."
Wilson says the reality of her purpose in life has been shaped by the job, and she shares a final lesson that only comes with experience: "Time is precious. Don't waste my time."