'I did not go it alone': Reflecting on the Fire Chief of the Year Award
A leader's success is often on the shoulders of so many supporters
---
The International Association of Fire Chiefs (IAFC) is now accepting nominations for the Fire Chief of the Year award, sponsored by Pierce Manufacturing. There are two award categories – Career Fire Chief of the Year and Volunteer Fire Chief of the Year.           
As the recipient of the Career Fire Chief of the Year in 2022, the announcement of the new nomination period made me reflect on my own journey to receive such a prestigious award.           
To be nominated was an honor. And to receive the award on stage in front of my peers at Fire-Rescue International was an indescribable and surreal moment.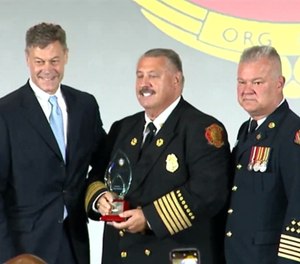 That notification phone call is one that will live in my memory forever. After I hung up the phone, a rush of thoughts raced through my mind. I wished my parents were alive to see this moment. I would not be where I am today without their love and guidance. I thought of the many who individuals took time out of their busy schedules to mentor me early in my career when I was just a young brash and impetuous kid from south St. Louis. I thought of a former fire chief, Neil Svetanics, who I had worked for in St. Louis, who stood on stage and accepted the same award 24 years earlier. I wished he too was alive to see this moment, as he was instrumental in coaching me throughout my career. I was tremendously honored to receive the same award.
I could not help but go to the website and look at the list of former recipients of the award. Many are well-respected leaders in the fire service, and knowing I was going to also receive the same award made me feel tremendously out of place; I simply did not feel that I matched the caliber of some of these past recipients. Many are friends like Chiefs John Buckman, Fred Windisch, Mary Beth Michos, Dan Eggleston, Smokey Dyer, Tim Wall, plus many other accomplished chiefs.
Of course, becoming the Career Fire Chief of the Year is not the journey, efforts and labors of one person. No one goes it alone. Sure, it takes hard work on your part, a dedication to our great profession, and a commitment of service to others. But no one who has ever been the recipient of the Fire Chief of the Year will tell you they achieved on their own.
They will tell you, and so will I, that there have been many who have paved the way for us to receive the award: your instructors in your first academy class, your first company officer, the firefighters you worked with and whom you eventually lead, plus many more in and outside of your fire department.
Your spouse and your family deserve much credit. There were probably plenty of times your spouse felt like a single parent because you were on a 24-hour shift or, later in your career, at a council meeting or large fire. You probably missed some of your kids' sports events, piano recitals and dance lessons. Your family has made sacrifices because of your career and are equally responsible for you receiving this esteemed award.
The Fire Chief of the Year Award is a lifetime achievement award not tied to one specific event, and the person who nominated me cited many other areas of importance in my 45-year career working for three different fire departments – St. Louis, Memphis, and Champaign. However, I was nominated for the award mainly because of my actions as president of the IAFC in 2019 and 2020. I had the unenviable role of leading our association through the worldwide crisis of the pandemic and then the civil unrest after the death of George Floyd.
From early March 2020 until late July 2020, I worked 14-18-hour days, seven days a week. I lived on the phone and zoom calls. I could not even run my own fire department because I was so tied on the national and international pandemic response efforts that one of my deputy fire chiefs had to become the acting fire chief. There were so many challenges to the association and the fire service during those unprecedented times.
But I did not go it alone.
There were many who were responsible for my success – way too many to name here, but the primary individuals who were there from start to finish included Rob Brown, CEO of the IAFC, many IAFC staff, and even some volunteers who came into our IAFC offices to operate phones, our operations center, and other duties dealing with Congress, the White House and countless federal organizations. I give all the credit to them for the IAFC's success during those tumultuous times.
If you know someone who is qualified and deserving to a Fire Chief of the Year, I encourage you to consider taking that step to nominate them for this prestigious award. It could be a great honor in their life, like it was for me.