3 FDNY chiefs warring with Fire Commissioner Laura Kavanagh claim ageism in lawsuit
Assistant Fire Chiefs Michael Gala, Joe Jardin and Michael Massucci want to be reinstated to their prior ranks and to receive damages
---
By Thomas Tracy
New York Daily News
NEW YORK — A group of seasoned FDNY fire chiefs claims they were harassed, maligned and ultimately demoted because they were too old in Fire Commissioner Laura Kavanagh's eyes, a bombshell age discrimination lawsuit filed against the city claims.
Assistant Fire Chiefs Michael Gala, Joe Jardin and Michael Massucci say they were targeted by Kavanagh "because they were at or near the age of 60″ according to the lawsuit filed in Brooklyn Supreme Court late Thursday.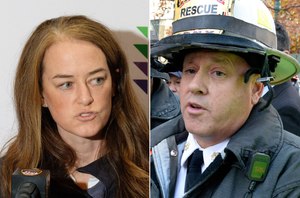 The demoted chiefs demand in the suit that they be reinstated to their prior ranks, as well as unspecified damages.
At 40, Kavanagh, the city's first woman fire commissioner, is also one of the city's youngest commissioners.
Gala, Jardin and Assistant Chief Fred Schaaf were all demoted to deputy chief by Kavanagh in February. Their demotions sparked a mass protest by FDNY chiefs, including Massucci, who criticized Kavanagh and asked to be demoted in rank and moved out of department headquarters.
Kavanagh hasn't signed off on any of the demotion requests and asked the chiefs to hang on for three more months while she "rights the ship," FDNY officials said.
In the lawsuit, attorney Jim Walden claims that Kavanagh and FDNY Deputy Commissioner JonPaul Augier conspired to force the older chiefs "off medical leave" as well as "threaten to withhold earned or customary benefits." They also "cut off their computer access" and "leaked false information about them to the press."
"When these methods failed (Kavanagh's) intended result — bullying seniors into retirement — she resorted to more brutal means, such as demotions, humiliating reassignments, and public disparagement," the lawsuit states.
FDNY sources had repeatedly called the three demoted chiefs "bad apples" who had often disagreed with the new fire commissioner.
The lawsuit claims Kavanagh "never identified a single order of hers that (the chiefs) defied nor were any staff chiefs disciplined for any such defiance (since there was none."
There had also been complaints about the chiefs' "tough management style" but Walden said none of them have "any disciplinary record or substantiated EEO claims against them."
The chiefs have repeatedly claimed that Kavanagh makes all her decisions with a small circle of aides — which includes Augier and an ex- NYPD lieutenant — and that she ignores their years of experience.
The division between Kavanagh and her staff chiefs began on Feb. 3 when the three men were demoted and the commissioner had a tense meeting with them, where she demanded "innovative, outside-the-box thinking" from them.
In his lawsuit, Walden claims "demanding undefined and unquantified 'out-of-the-box thinking,' 'fresh ideas,' and decrying 'old thinking'" were "all classic hallmarks of ageist language."
"While it is natural for a new leader — male or female — to introduce new ideas and innovation to improve an organization, Kavanagh's actions were bereft of any substance and merely intended to humiliate her older subordinates," the lawsuit states.
Kavanagh allegedly used the same ageist tactics against former FDNY Chief of Department James Leonard, who she was butting heads with when she was made first deputy commissioner, the lawsuit states.
Leonard was relieved of his duties and put on modified assignment after being accused of "inappropriate behavior" and ultimately retired.
After Leonard left, Kavanagh "decided to teach senior officers and civilians — who she viewed as either loyal to Chief Leonard, fixated on rules and regulations, or simply 'stuck in their ways' — a lesson: she would rid FDNY of as many as possible and replace them with younger and more pliable substitutes," the lawsuit states.
"Although Kavanagh sought to justify her actions as 'picking her own team,' this was a lie: she sought to target the oldest people (and) install younger people, believing they were more likely (given their more limited experience and younger age) to disregard applicable rules and laws, normal FDNY practices, customary accommodations, and core principles of chain of command and unity of command."
Both the FDNY and the city Law Department declined to comment on the lawsuit, which is the chiefs' second lawsuit regarding their loss in stature.
The chiefs filed a lawsuit in Brooklyn federal court to be reinstated last month, claiming that with their demotions left the city's firefighting forces with an "unimaginable level of unpreparedness" and would endanger city residents because they are the only ones with enough knowledge to handle massive fires.
"This case is about one thing: the safety of the public and valiant firefighters of the New York City Fire Department," the lawsuit said.
Walden asked Brooklyn Federal Judge Rachel Kovner for a temporary restraining order stopping the demotions, but Kovner refused, claiming that the chiefs "have not established that the departure or demotion of officials with experience commanding four- or five-alarm fires creates a likelihood of irreparable harm to the public," she wrote.
Claims of agism could be undermined by the fact that the commissioner hired retired FDNY 9/11 hero Joseph Pfeifer, who was named the department's first deputy commissioner.
Pfeifer is 67 years old.
"We are well past the point of believing the defense of 'I am not racist against X because I have X friends,'" Walden told the Daily News Friday. "Hiring Pfeifer proves nothing. The detailed allegations of the complaint say it all."
©2023 New York Daily News.
Visit nydailynews.com.
Distributed by Tribune Content Agency, LLC.
McClatchy-Tribune News Service