Baltimore council moves to vote on acting fire chief
Acting Baltimore Fire Chief James Wallace hopes to increase recruitment among females and improve retention in the ranks
---
By Emily Opilo
Baltimore Sun
BALTIMORE — Acting Baltimore Fire Chief James Wallace was forwarded favorably Thursday by a City Council committee, advancing his confirmation process and setting up a future vote of the full council.
The council's Rules and Legislative Oversight Committee voted unanimously to recommend Wallace's nomination to the full council body. The council next meets on Oct. 2, when it will likely take up both Wallace's nomination and that of Acting Police Commissioner Richard Worley, who was also forwarded Wednesday.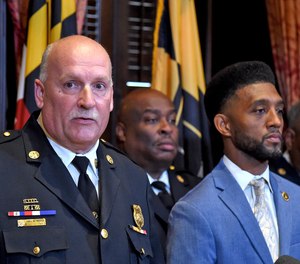 Wallace, a 33-year veteran of the department, has been the head of the city's Office of Emergency Management since 2020. If approved, he'll be paid a starting salary of $218,000 annually, according to a contract submitted to the Board of Estimates this week. That agreement, which must still be approved by the spending board, would expire in four years or when Mayor Brandon Scott's term ends, whichever comes first.
Scott is currently running for reelection.
The recommendation for Wallace came after a brief hearing in which the council asked questions about the department's staffing and retention. Councilman Kristerfer Burnett asked about Wallace's plans to attract more women and minority candidates to the department. Wallace noted that his entire staff in the Office of Emergency Management was made up of women by the time he left.
The acting chief said he hoped to see the department reach out to more female students, beginning as early as middle school, to help steer potential firefighters and paramedics to the department.
Councilman Mark Conway asked what Wallace would do to better retain firefighters. The department continues to suffer from high vacancy rates.
Wallace said the department needs to bolster its ranks to spread work more evenly.
"I think where we are right now in regard to morale, a lot of it is a factor of just exhaustion," he said. "We're a very high call volume department, and we're a very high call volume city."
Josh Fannon, head of the Baltimore Fire Officers Association, said Wallace immediately reached out to union officials after his nomination and has pledged to have an open-door policy.
"He has held true to his word from day one," Fannon said.
The council heard from only one member of the public about Wallace, Jason Rodriguez, an activist with People Empowered by the Struggle. Rodriguez said he had questions about Wallace's record based on reporting from The Baltimore Sun.
Shortly after Wallace was nominated in July, The Sun reported that Wallace faced charges in 1992 related to his possession of homemade explosives. A news report from that year indicated that Wallace, then 23 and a resident of Bel Air, was discovered to be in possession of more than 50 pipe bombs when officials responded to a reported explosion. The charges were recently expunged, meaning court records of the incident were removed from state files.
[RELATED: Baltimore mayor addresses fire chief nominee's past pipe bomb charges]
Wallace was a paramedic with the city at the time of the 1992 incident. He was temporarily suspended after he was charged, according to city officials.
Scott's administration has argued the charges should not disqualify Wallace from overseeing the department.
"One mistake during your youth and standing up to protect your family are not disqualifications for public service, nor does it diminish 30 years of stellar service to Baltimore City — especially when full expungement had been granted," Scott said in August.
Rodriguez said he believes in second chances but noted that Wallace has been nominated for a high-level position.
"Are there not better men and women who have served in our fire department that could serve our city better?" he asked.
The council did not ask Wallace about the charges, and he did not address them.
[RELATED: Baltimore's newest fire chief nominee raises questions]
Rodriguez also noted that Wallace is not yet a city resident. Baltimore's charter requires department heads to be city residents and registered voters of the city. As of July, Wallace was a resident of Pennsylvania. His proposed contract includes a six-month housing allowance and reimbursement for "reasonable" relocation expenses.
After beginning his career with the fire department as a paramedic, Wallace became a firefighter/paramedic and was later named lieutenant. Wallace also served as battalion chief for special operations command and deputy chief. He was named acting emergency management director in March 2020 and became the permanent director in October 2021.
If confirmed by the full council, Wallace will replace former Chief Niles Ford, who resigned in December after the release of a damning investigative report on the deaths of three firefighters. They were battling a blaze in a vacant building when it collapsed, trapping them.
Following Ford's departure, the department has been overseen by a rotating group of officials. It was announced initially that assistant chiefs Charles Svehla, Chris Caisse and Dante Stewart would take turns as acting chief. But by summer, Stewart was serving in the position on a solo basis. Wallace has been overseeing the department on an acting basis since July.
©2023 Baltimore Sun.
Visit baltimoresun.com.
Distributed by Tribune Content Agency, LLC.
McClatchy-Tribune News Service