Baltimore mayor addresses fire chief nominee's past pipe bomb charges
In 1992, James Wallace was charged with possession of over 50 pipe bombs and possession of explosives without a license
---
By Emily Opilo
Baltimore Sun
BALTIMORE — Baltimore Mayor Brandon Scott's nominee to lead the city's fire department once faced charges related to his possession of homemade explosives, a circumstance that Scott's administration said it was aware of and should not disqualify him from overseeing the department.
The charges were levied in connection with a 1992 incident in which James Wallace, then a resident of Bel Air, was discovered to be in possession of more than 50 pipe bombs. The charges were recently expunged, meaning court records of the incident were removed from state files.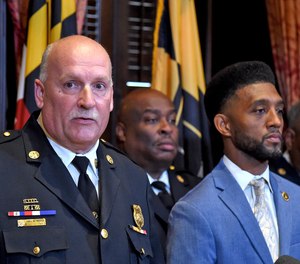 According to a July 1992 Baltimore Sun article about the incident, the Harford County Sheriff's Office was called one night to the Greenbrier Hills apartment complex, now Seasons Apartments, in Bel Air for a report of an explosion. Police and fire marshal's investigators found a homemade explosive device had been detonated in the street.
Officials found explosives inside an apartment rented by another man at Greenbrier Hills. Wallace, then 23, and the second man, then 29, were charged with possession of pipe bombs and possession of explosives without a license, according to the Sun report. Another charge of violating state laws on fireworks possession was levied against the other man, the newspaper reported.
Wallace, now 54, was nominated last week to take the helm of the Baltimore Fire Department, which has been without a permanent leader for the last seven months. In announcing his selection of Wallace, Scott praised the 33-year veteran of the department for his dedication to Baltimore, particularly in a time of crisis. Wallace took over the Office of Emergency Management as acting director in March 2020 during the onset of the coronavirus pandemic. He was elevated from acting to permanent director in October 2021.
Wallace was a paramedic with the city at the time of the 1992 incident. Public records show he also lived in the Greenbrier Hills apartments at the time.
A request last week to the state judicial archives for records pertaining to the 1992 charge against Wallace has not yielded any results. The Sun reviewed documents showing the pipe bomb charge was ordered to be expunged in March 2021. A certificate of compliance was issued by the judiciary system in June 2021 to grant Wallace's expungement request. However, a legal research database contains the old information.
Via Scott's office, Wallace issued a statement calling the 1992 incident a "mistake for which I was appropriately reprimanded." Wallace was suspended temporarily after he was charged.
"Thankfully we were able to move forward together, and I am thankful that my situation was considered worthy of a full expungement," Wallace said. "I am determined to continue my service so long as I am asked to work on behalf of Baltimore's residents."
A review of court records shows no other fire or explosive-related charges against Wallace.
Additional charges against Wallace from 1992 and 1993 were never prosecuted, including assault, use of a deadly weapon, battery and destruction of property. Court records obtained from state archives provided no further details. Scott's administration would not expand upon the origins of those charges.
Wallace's statement also referred to a "vow" he made to "protect my family," apparently referring to the other, non pipe bomb-related charges.
Scott issued a statement saying Wallace has "consistently shown his true character and commitment to our city protecting the lives of Baltimoreans and visitors alike."
"One mistake during your youth and standing up to protect your family are not disqualifications for public service, nor does it diminish thirty years of stellar service to Baltimore City — especially when full expungement had been granted," Scott said. "We all deserve the opportunity to grow and demonstrate our true character, which is the understanding that prompted Baltimore City to be one of the first to 'ban the box' and what drives our commitment to ensuring an individual is not reduced simply to their experience with the judicial system."
Baltimore passed a law 'banning the box' in 2014, barring private employers from asking about criminal records on job applications. The law requires employers to wait to ask about a job candidate's criminal history until a conditional offer has been extended. At the time, the city already restricted when certain government agencies could ask job candidates about old convictions.
Before he can become permanent chief, Wallace still must be confirmed by the Baltimore City Council, which has not yet scheduled a hearing on his nomination. Scott said he would formally submit Wallace's nomination to the council at its next meeting on Aug. 21.
If confirmed, Wallace would be the department's first homegrown leader in a decade and a half. Chief Niles Ford, who resigned in December following the release of a damning report on a fire that claimed the lives of three city firefighters, came to Baltimore from Lincoln, Nebraska in 2014. His predecessor, James S. Clack, who joined in 2008, was the first chief from outside the department in its 164-year history.
After beginning his career with the fire department as a paramedic, Wallace became a firefighter/paramedic and was later named lieutenant. Wallace also served as battalion chief for special operations command and deputy chief. As director of the Office of Emergency Management, Wallace was paid $159,000 in fiscal year 2021, the most recent year available on the city's online database. Ford made $220,000 that year.
Baltimore's charter requires department heads to be city residents and registered voters of the city. Nonresidents are required to sign a declaration that they will move into the city within six months. Scott said Wallace plans to move to the city. Court records show Wallace lives in Pennsylvania.

©2023 Baltimore Sun.
Visit baltimoresun.com.
Distributed by Tribune Content Agency, LLC.
McClatchy-Tribune News Service