Baltimore's mayor picks OEM director, veteran FF to lead fire department
If confirmed, James Wallace would replace former Chief Niles Ford, who resigned in December 2022
---
By Emily Opilo
Baltimore Sun
BALTIMORE — Baltimore's director of emergency management, a 33-year veteran of the fire department, has been tapped by Mayor Brandon Scott to become the city's next fire chief.
Scott said Wednesday he would nominate James Wallace, who has led the Office of Emergency Management since 2020.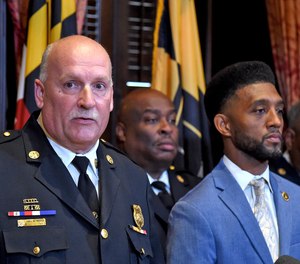 If confirmed by the Baltimore City Council, Wallace would replace former Chief Niles Ford. He resigned in December after the release of a damning investigative report on the deaths of three firefighters. They were battling a blaze in a vacant building when it collapsed, trapping them.
Since then, the department has been under the leadership of a rotating group of officials. It was initially announced that assistant chiefs Charles Svehla, Chris Caisse and Dante Stewart would take turns as acting chief. But by summer, Stewart was serving in the position on a solo basis.
At least 20 people applied for the position, and both internal and external candidates were interviewed, officials have said publicly.
Ford was paid about $220,000 in fiscal year 2021, the most recent year available on the city's online database. Wallace's salary at the emergency management office was $159,000.
---

Read more:
Baltimore Fire Chief Niles Ford resigns following release of internal report about LODD fire
The report, compiled by the fire department's internal Board of Inquiry, addresses the Jan. 24 rowhouse fire in which three city firefighters were killed
---
Scott's selection of Wallace signaled a return to homegrown leadership after a decade and a half under chiefs without local ties. Ford, who was picked by then-Mayor Stephanie Rawlings-Blake, was chief in Lincoln, Nebraska, before coming to Baltimore in 2014. His predecessor, James S. Clack, who joined in 2008, was the first chief from outside the department in its 164-year history.
Wallace, 54, was named acting emergency management director in March 2020. He became the director permanently in October 2021.
Baltimore's charter requires department heads to be city residents and registered voters of the city. Nonresidents are required to sign a declaration that they will move into the city within six months. It wasn't immediately clear if Wallace would need to move to Baltimore; a report published by City Council's labor committee in 2020 listed Wallace as living in Pennsylvania.
Wallace would inherit a department struggling with severe staffing shortages, aging fire apparatus and grieving employees. The triple fatal fire on Stricker Street in January 2022, one of the deadliest for first responders in the city's history, highlighted organizational and operational flaws in the agency, many of which are unresolved.
The 182-page report released ahead of Ford's abrupt departure found the city lacked policies on vacant buildings and failed to implement recommendations proposed more than a decade ago.
The report also said a battalion chief at the scene was overloaded with duties and missed critical information on busy radio channels and that an early assessment of the ongoing fire missed key factors, including the building's lengthy vacancy, damage from a previous fire and exposure to the elements.
A Baltimore Sun investigation showed vacant homes in Baltimore burned at twice the national rate, but gaps in record-keeping limited what firefighters knew before proceeding inside them. In the year and a half since the fire, Baltimore has restarted a program to mark structurally unstable buildings with signs that warn emergency personnel of the hazard.
Other problems in the department persist. Leaders of the department in May reported a 16% vacancy rate among emergency medical service positions, resulting in 100 employees a day being asked to work overtime.
The city's fiscal year 2024 budget included a $15.4 million increase in fire department spending to $332.9 million, in part to address staffing issues. Two dozen emergency medical service positions were added to the agency's budgeted staff of 1,760 as part of the final budget for the year that began July 1.
The budget also set aside funds to create four safety officer positions that the report on the Stricker Street fire recommended. However, the department has not created permanent aides for battalion chiefs, recommended by the report to help commanders make decisions during hectic fires.
The aging fire fleet has also raised concerns. During a December council hearing, fire union officials said five of 17 fire truck companies had been out of service for several weeks because multiple trucks were being repaired and there weren't any backups.
The average age of Baltimore's front-line firetrucks at the time was 11.4 years. The National Fire Protection Association calls for fire vehicles to be used no more than 10 years on the front line. The group recommends moving older equipment to a reserve status, where it can be used for another 10 years. The city's ambulances, which local fire officials said have a front-line life span of three years, average 6.2 years in age.
As part of a budget agreement struck by the City Council, $5.4 million was allocated to buy new equipment. Trucks equipped with ladders and rescue equipment cost about $1.5 million each, fire officials said Wednesday. Engines run about $850,000, while ambulances cost about $300,000 each.
If confirmed as chief, Wallace would lead a command staff that he did not select. Various promotions occurred in May. Deputy Chief Kensington W. White III was promoted to executive assistant chief. Deputy Chief James Matz was promoted to assistant chief of EMS.
©2023 Baltimore Sun.
Visit baltimoresun.com.
Distributed by Tribune Content Agency, LLC.
McClatchy-Tribune News Service