Chief comes out of retirement to lead Calif. FD on interim basis
Former Manhattan Beach Chief Robert Espinosa has returned to work at the El Segundo Fire Department
---
By Tyler Shaun Evains
The Beach Reporter
EL SEGUNDO, Calif. — El Segundo has new interim fire chief — and he has plenty of experience in the South Bay.
The City Council unanimously OK'd appointing former Manhattan Beach fire Chief Robert Espinosa to temporarily lead the El Segundo Fire Department during the panel's Tuesday, May 2, special meeting, less than a week after announcing previous Chief Deena Lee's retirement. Lee had held the position since 2021.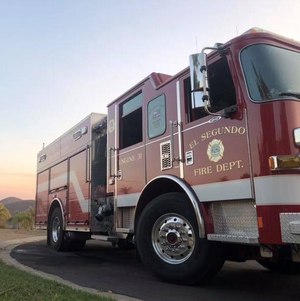 It's Espinosa's first job since 2018, when he retired as Manhattan Beach's fire chief. His tenure there ended somewhat tumultuously, with some fire employees giving him a vote of "no confidence" shortly before his exit.
El Segundo City Manager Darrell George tapped Espinosa to helm that town's Fire Department on an interim basis. But the California Public Employees' Retirement System requires that city councils also approve employment agreements for retirees.
Espinosa began his stint in El Segundo on Wednesday, May 3, with his tenure set to end on Nov. 15 — unless the city finds a permanent fire chief sooner. He'll make $116.03 per hour, according to his employment agreement.
"I expect to meet those expectations (of the city)," Espinosa said during Tuesday's council meeting, "and assist the city in finding a top notch fire chief to replace myself in a full-time position."
Espinosa has more than 40 years of firefighting experience, having joined the El Segundo Fire Department in 1978 after being discharged from the U.S. Army. He served in Long Beach for 24 years, eventually rising to the chief rank. After that, he led Rialto's force for a couple of years before becoming Manhattan Beach's fire chief in 2011.
Despite his resume, some El Segundo fire employees have expressed concern about Espinosa's ability to lead the force. The El Segundo Firefighters' Executive Board sent a letter to the city earlier this week, which the Daily Breeze obtained, asking officials to reconsider his appointment.
"We believe that the decision to hire Mr. Espinosa within the El Segundo Fire Department would continue a very stressful work environment," the letter said, "and inhibit a path back towards healthy city/employee relations."
In 2018, 21 of 25 Manhattan Beach firefighters voted "no confidence" against Espinosa. Among the grievances firefighters had with him at the time was that his management style seemed to clash with many in the department and that hospital transfers were delayed.
Espinosa, who did not address the "no confidence" vote or the reasons for it during Tuesday's El Segundo meeting, previously denied some of the allegations the Manhattan Beach firefighters union levied against him, while saying some issues — such as delayed hospital transfers — were out of his hands.
"A city should never be in a position where the community is asked to choose between its Fire Chief and their firefighters," Espinosa wrote in his March 2018 resignation letter. "I do not desire to hold a public discussion about the differences management and labor have."
Manhattan Beach's relationship with its firefighters, meanwhile, wasn't entirely mended by Espinosa's retirement. In the fall, for example, the City Council imposed a one-year contract for its firefighters — after the union found it inadequate and rejected the deal. The parties will work to negotiate a "fair and balanced long-term agreement" this year, city spokesperson Jessica Vincent said in September.
As for El Segundo, George, who did not return requests for comment Wednesday, said during the council meeting that after speaking with past and present Manhattan Beach officials, he's confident in Espinosa's ability to run the department until a full-time replacement is found.
"The feedback from them was outstanding in terms of the role Espinosa played, as well as his competency," George said. "Yes, there were issues, like I think any fire department has. But my conversations with them assured me that he can certainly do this job on an interim basis."
Mayor Drew Boyles, for his part, said during Tuesday's meeting that in his seven years on the council, he's witnessed several instances of various unions taking votes of no confidence against a previous fire chief and city manager. That, to him, doesn't necessarily prove they were unfit for their positions.
El Segundo, meanwhile, is actively recruiting for a new permanent fire chief.
___
(c)2023 The Beach Reporter, Manhattan Beach, Calif.
Visit The Beach Reporter, Manhattan Beach, Calif. at https://tbrnews.com/
Distributed by Tribune Content Agency, LLC.
McClatchy-Tribune News Service