Former Atlanta, D.C. fire chief named interim head of Kan. FD
Dennis L. Rubin will begin overseeing 18 Kansas City FD stations and managing areas such as EMS and special operations on June 1
---
By Anna Spoerre, Matti Gellman
The Kansas City Star
KANSAS CITY, Kan. — The Kansas City, Kansas Fire Department named an interim fire chief weeks after its former leader resigned following allegations of retaliation.
Dennis L. Rubin will take over as temporary head of the fire department — overseeing 18 fire stations and managing areas from emergency medical services to special operations — beginning June 1, according to a news release from the Unified Government of Wyandotte County and Kansas City, Kansas.
Rubin previously served as fire chief in Atlanta, Georgia, Washington, D.C., and most recently, in small towns in Wisconsin and Virginia.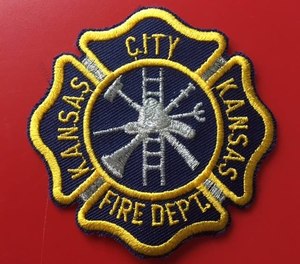 Since retiring in 2017, Rubin has been on a lecture circuit, published books related to fire management and has worked as adjunct faculty at numerous state rescue training agencies.
Rubin, in a news release Monday, called the new responsibility over KCKFD "a personal and professional honor."
"I am looking forward to working alongside of the women and men of this great fire department to protect the lives and property of our community," Rubin said in the news release. "Fire Administration and our firefighters essentially have the same vision and that is to prevent harm and to serve our citizens and visitors in their time of need."
A permanent fire chief will not immediately be selected, County Administrator David Johnston said in a statement , though he didn't give an exact timeline. That's why, Johnston said, it was important for him to select an interim chief with a "wealth of experience."
The former chief, Michael Callahan, announced his resignation on April 14 after five years leading the department. Previously, he spent 38 years with the Chicago Fire Department. His last day as chief was April 28.
His resignation marked the fourth reported Wyandotte County department head to leave their position over the last year. In September, both the Unified Government's economic director and director of development coordination left their posts within two days of one other.
Atlanta, D.C. and Kansas City
Rubin began his firefighting career in Washinton D.C., where he was born and raised, he told the Green Bay Press Gazette in 2014. The father of three first served as fire chief in Norfolk, Virginia, in 2001, before leading the Atlanta Fire and Rescue from 2003 to 2007.
From there, he returned to D.C. where he served four years as fire chief before resigning in 2011, after the mayor who hired him lost his bid for re-election, according to WRIC, a TV station in Richmond.
While in D.C., Rubin responded to a fire at the Old Executive Office Building, the site of the office of then-Vice President Dick Cheney, Rubin told the Press Gazette. He and his colleagues rescued a U.S. Marine trapped on the fifth floor, earning them a lunch invitation at the White House.
In 2014, Rubin moved to De Pere, Wisconsin, where he stayed for a few years as chief. In spring 2017, he took over the Petersburg, Virginia, fire department, but resigned 15 months later.
"(Rubin's) many years of experience and leadership will offer Kansas City, Kansas firefighters and the Wyandotte County community great insight, administration, and strategic planning tactics," according to the unified government's news release.
Controversy surrounded former KCKFD chief
In his resignation letter, former KCKFD chief Callahan — who at times was viewed as a controversial leader — urged Kansas City, Kansas, fire crews to continue keeping each other safe and lauded the department for its talent and competency, according to the letter obtained by The Star.
Callahan in mid-April told The Star he was proud of his work, which included implementing a policy to respond to collapsing high rise buildings and a defensive fire policy. He said his crowning achievement was that no firefighter responding to a fire he was in command of was seriously injured or killed.
President JJ Simma of the International Association of Firefighter's Local 64 chapter, which represents Kansas City, Kansas, firefighters, has been critical of Callahan's leadership, and told The Star last month that his resignation would be a "positive step forward" for the department.
Simma alleged Callahan and other leading members of the department "destroyed morale" and caused serious workforce retention and recruitment issues. Policies and procedures written by Callahan put both firefighters and the public's safety in danger, Simma said.
But, according to Callahan, he inherited a department where people were complacent and lacked discipline.
"Orders are given and orders are followed. Otherwise there's chaos," he said, later adding: "There's a culture here where people believe if you ask a question, you're disciplining them."
Callahan said his leadership team should be remembered for providing more money to firefighters recruited to the service with a degree, increasing access to educational resources and promoting high ranking Black and Hispanic firefighters. But the administration was also accused of retaliating against employees reporting racial discrimination in a previous lawsuit.
In December 2021, the local IAFF chapter representing Kansas City, Kansas, firefighters, wrote a letter to former Mayor David Alvey and the Unified Government's Board of Commissioners asking for the "immediate removal" of Callahan due to alleged "bullying tactics" and the department's alleged mismanaged response to the COVID-19 pandemic.
The union also issued a vote of "no confidence" in Callahan on January 2021. A letter announcing the vote added that Callahan's "vindictive personality," had been a distraction to the members of the fire department and called for an independent investigation into both the chief and deputy chief Jack Andrade.
Callahan was accused of retaliating against his employees in a June 2022 letter, where the national firefighter's union threatened legal action if Mayor Tyrone Garner failed to "rectify the problems" within the department.
In the letter, president of the organization Edward A. Kelly cited concerns over "unanswered HR complaints, multiple discrimination allegations against department leadership... and reckless policy decisions that put both the public and firefighters at unnecessary risk."
A 20-year veteran of the department, Leejamahl A. Washington, similarly criticized leadership in a January lawsuit, where he alleged senior officials sought to retaliate against him for raising concerns about discrimination at the department. Over the years, the lawsuit said, Washington had been threatened "repeatedly" for conduct that white employees did without reprimand. Near the beginning of his tenure, Washington said, he once saw co-workers wear "Nazi memorabilia" in a break room, and found a noose hanging in front of his locker.
Callahan previously denied retaliating against anyone.
"Did I change things when I got here? Absolutely. Did they need to be changed? Absolutely," he said.
©2023 The Kansas City Star.
Visit kansascity.com.
Distributed by Tribune Content Agency, LLC.
McClatchy-Tribune News Service