FRI 2023: Uniting the fire service through #FireServiceOneVoice
The leaders of eight industry organizations gathered on stage in Kansas City to share their cooperative vision for the future of the fire service
---
KANSAS CITY, Mo. — During the final General Session of Fire-Rescue International 2023, outgoing IAFC President Donna Black was joined on stage by the leaders of several major U.S. fire service industry organizations for a panel discussion on the major issues firefighters are facing today.
The collaboration is part of U.S. Fire Administrator Dr. Lori Moore-Merrell's #FireServiceOneVoice campaign, an outreach strategy and rallying cry by the Fire and Life Safety Communicator's Initiative launched earlier this year, which connects the leaders of several major fire associations and encourages collaboration – to "speak with one voice." 
The panel, moderated by Chief Black, featured: 
International Association of Fire Fighters (IAFF) President Edward Kelly
UL's FSRI Vice President and Executive Director Steve Kerber
National Fallen Firefighter Foundation's Chief Ernest Mitchell
U.S. Fire Administrator Dr. Lori Moore-Merrell
National Fire Protection Association (NFPA) President and CEO Jim Pauley
National Volunteer Fire Council (NVFC) Interim CEO Kevin D. Quinn
National Fire Sprinkler Association (NFSA) President Shane Ray
During the discussion, each panelist offered their thoughts about the campaign and how they were using their organization's reach and resources to tackle specific topics that were designated as part of the national fire strategy, which Dr. Moore-Merrell outlined during an earlier keynote address at the conference.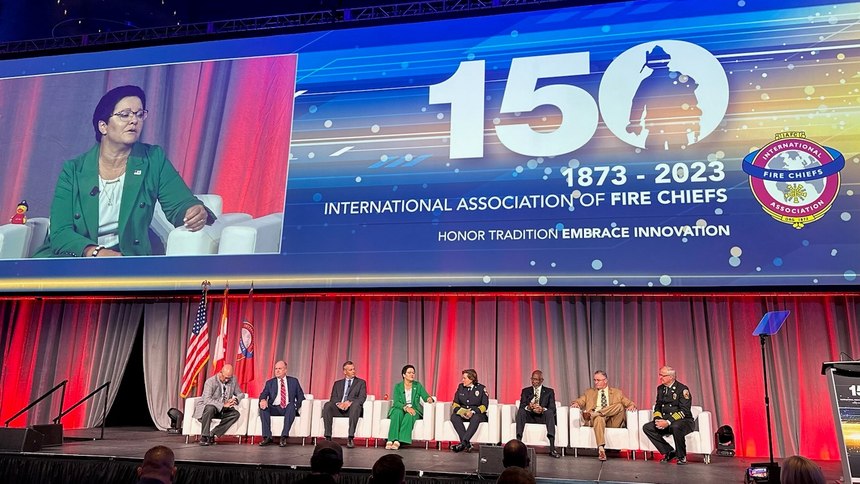 Memorable quotes from the #FireServiceOneVoice panel
The discussion was a deep dive into the fire service's current pain points but also showed the appreciation of the panelists for the collaborative movement spurred by Dr. Moore-Merrell.  
I've been waiting 30-something years in my career for this to happen, for all of us, for the organizations to come together. It was a fantastic leader to bring us together to say we can speak, we do speak and we do have one voice. It's been the highlight of the 36 years I've spent in this business." — Shane Ray, NFSA
When I first went to the USFA, it's not secret when I got here, I was like, 'What the … ? What is going on here?' I really went back to the legislation to say, 'What should we be doing? What are we supposed to be doing?' When you don't know, you go back to basics, right? With that, it became abundantly clear to me that there's no way USFA functions without our national leadership and all of our representation." — Dr. Lori Moore Merrell, USFA
As great as it is, I'm not surprised, because once [Moore-Merrell] got on this topic, and all of us knowing her individually through the years that we have, we knew this was going to be huge, not only for the fire service but also huge for the public and public safety overall. We've been extremely excited to be part of this, to be one voice among all of us." — Jim Pauley, NFPA
The only way we're going to make progress here is if we do it together. So, the concept of doing research with the fire service as opposed to for the fire service completely shifts that paradigm to the point to the point where the fire service is driving the research and saying what they need." — Steve Kerber, UL's FSRI
By Lori's vision and all the organizations stepping up, we've had incredible progress in a relatively short amount of time, and I'm looking forward to the future. The future is bright." — Kevin Quinn, NVFC
The percentage of first responders who suffer from PTSD during their career is around 20%. It's about the same as war veterans coming from the Middle East. And the general population is about 6.8%. That's a big difference, a tremendous difference, and our leaders need to work on that fact." — Ernie Mitchell, NFFF
[U.S. Department of Homeland Security Secretary Alejandro Mayorkas] was astounded that you could not be requiring sprinklers in every piece of construction that we're building across the United States, including single-family projects. It showed us what the mismatch is between the reality of what's going on every day, and what people think really at policy level needs to happen." — Jim Pauley, NFPA
When it comes to recruitment and retention, we really have to think outside the box. And we have a job to do, so we're challenging you, and us, collectively as One Voice." — Kevin Quinn, NVFC
This is the movement. We have to be relentless, and we have to up the game of what the fire service is all about. We need to get more respect, and we have to do that by being bold and making those statements and working with Congress and your local officials. But we cannot continue to lose people in fires. We cannot continue to lose firefighters on the ground in the line of duty and to injuries. We have to, together, work harder, and we will make it better. I believe that to be true – the future is better." — Edward Kelly, IAFF
The politicians go home, and then they listen to you. Or, if it's not you, they're listening to other people. And if they're hearing a message that is not consistent with the priorities of the fire service at the national level, then they stop listening because they don't know who to listen to, what people need or what to champion. I think that's the biggest aspect of the [#FireServiceOne Voice campaign] is that they hear the same strategic ask, no matter where they go, and they know they're going to keep hearing from them until they do something to fix it." — Steve Kerber, UL's FSRI
There are things like homelessness. What is that contributing to the fire problem? Or is the fire problem contributing to the homeless problem? How many people are displaced every day? There's nowhere to go except a shelter, and maybe they can't stay there. Think about those things. We've got the opioid issue that's still ongoing. What does that contribute to the fire problem? We need to connect these dots and be able to tell this story because it's these stories that get the attention of decision-makers. It's these stories that get the attention of reporters." — Dr. Lori Moore-Merrell, USFA
Top takeaways from the #FireServiceOneVoice panel
During the discussion, it was clear the panelists were embracing the #FireServiceOneVoice campaign, as they discussed the ways they were working together to achieve some long-sought industry goals.
1. Consistent messaging at every level
The central message of the panel – and the campaign as a whole – was that speaking as one, amplified voice with a specific message is more likely to get people to listen – and care – about critical fire service issues.
"We won't be able to move out from under the regulatory red tape that actually inhibits us from living up to the oath we all took to protect citizens to the best of our ability, without one voice, without all of us singing from the same sheet of music," Kelly said.
As Dr. Moore-Merrell explained, "Fire Service One Voice is a collaboration of all of our national organizations so that we can stand together on the things that we can move."
2. An increased spotlight and reliance on research
Dr. Moore-Merrell is planning to reshape how data is collected, stored and shared across the different organizations.
"Data is going to be so important," she said. "Our data system is the linchpin to everything we've talked about today, so that we can have information at your level, at the state level, at the national level, to tell these stories. How do we talk about your risk being changed if we can't document it and show it?"
3. Offering a reality check on the limits of the fire service
When discussing the insurgence of industrial warehouses, electric storage facilities and other complicated structures, Dr. Moore-Merrell emphasized that the fire service cannot be the first and only line of defense in an emergency.
"They – the builders, the designers, whoever – just assume the fire service is going to take all that additional risk," she said. "And that's an assumption that is false. We have to say, 'Listen, don't assume that we're trained, that we have enough resources for these increased risks.'"
Kerber echoed the fire administrator's comments on the all-hazards response today's firefighters are expected to provide.
"We've gone past so many lines of what we've expected of our firefighters on the front lines. We need to make sure that we're not setting them up to go into situations that they shouldn't have to go into," he said. "Make sure those expectations are understood and set well before any incident happens, because otherwise, they're just going to do what they do, and unfortunately, it's not just responding to your neighbor's house fire anymore. It's all these other issues that [Moore-Merrell] has highlighted that I don't think the fire service was ever intended to deal with which are now being dropped into your laps."
---
Read more:
FRI 2023: Dr. Lori Moore-Merrell details 6 focus areas of the National Fire Strategy
The U.S. fire administrator touted the work of the Fire and Life Safety Communicator's Initiative and the collaborative effort to focus on the fire service's messaging challenges through #FireServiceOneVoice
---