Ohio fire chief disciplined for abuse of authority
One of the incidents involved him sending a crew to his house to pretend it was on fire as part of his wife's 50th birthday party
---
By Lawrence Budd
The Dayton Daily News
LEBANON, Ohio — Lebanon Fire Chief Perry Gerome is working under an ultimatum issued by the city manager after calling on-duty fire crews and equipment to his home to help celebrate his wife's 50th birthday by pretending the house was on fire.
The chief also had crews deliver a chain saw to help him clear fallen limbs after a storm earlier this year.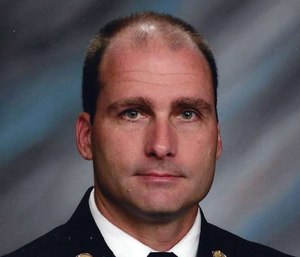 In March 2014, Gerome replaced Chief Michael Hannigan, who retired after 30 years with the Lebanon Fire Department.
This spring, Gerome was suspended without pay for five days, ordered to reimburse the city $1,025 and provide his department ethics training as punishment, according to city records.
The issues were first revealed in a Facebook post, taken down after a request by a city official, but investigated internally.
"Your willful disregard of the ethical standards of public employment and your demonstrated lack of leadership has caused me to seriously question whether you are able to effectively service in the position of fire chief. Further lapse in leadership and judgment on your part will result in termination of your employment," City Manager Pat Clements said in an April 25 disciplinary letter obtained this week by the newspaper.
Gerome on Wednesday referred questions to Clements, but according to records obtained by the newspaper, he earlier defended his use of the chain saw delivered by an on-duty lieutenant and two firefighters on a fire engine on March 4.
On Wednesday, a Germantown woman said she was "disgusted" by Gerome's response to a car crash on May 9 on Broadway in Lebanon.
"I'm just really disappointed, with him being a fire chief," Michelle Porter said. "I'm really disgusted he would hit someone and lie about it."
The police report indicates Gerome was at fault, and he acknowledges leaving the scene in his staff car without police being called. However, his statement indicates Porter crashed into him, that the accident was so minor there was no need for the police to be called, and that Porter refused treatment.
No citations were issued, because police weren't called to the scene, Clements said in an email Wednesday.
Although Clements said he found evidence supported Gerome's version of the crash, he said the city submitted Porter's claim to the city's carrier. He said his investigation indicated Gerome did not lie to Porter before leaving the scene of the accident.
He said Gerome's status was unchanged by the latest incident, rumors of which were moving through the community this week.
Abuse of authority
While Gerome avoided discipline after the car crash, he was issued a disciplinary ultimatum after internal investigation of a series of incidents in which he was found to have abused his authority in March and April. The incidents were first publicized in a Facebook post.
The post was removed from the Let's Talk Lebanon Facebook page at the request of Karen Graves, the city's assistant to the city manager for public affairs, but was investigated by the city manager.
"I was tied up in a meeting when this occurred and was not informed of the Facebook posting until after she made the request," Clements said in an April 20 email to city council and Law Director Mark Yurick.
The person responsible for the post was never identified.
While emphasizing the city's ethical standards, Clements said he decided to not take more serious action after his investigation.
"Although considered serious policy violations, to the best of our knowledge, neither incident resulted in adverse impact to the city's emergency response capability, since at no time were fire and emergency medical service personnel separated from their vehicles or equipment, removed from the corporation limits of the city, or taken out of service," Clements said in a statement.
Gerome came to Lebanon from the fire chief's job in Sycamore Twp. in Hamilton County.
Regarding the incidents that resulted in his suspension, Gerome said he called for assistance when his chain saw stopped, according to Clements' interview summary.
"Chief stated that it is customary for the LFD to loan equipment to residents," according to the summary. "I informed the chief that this is not consistent with city policy and to cease this practice immediately."
On April 15, the entire seven-person, on-duty crew, two fire engines, an ambulance, a command vehicle, a smoke generator and pressure fan were employed during a surprise birthday party for Gerome's wife attended by 100 people at their home in Lebanon.
"Firefighters were walking around in fire gear when she pulled up as she waked into a room full of people," Gerome wrote in a statement.
"Alcohol was consumed and was being consumed," according to Clements' summary. "The chief stated that with the exception of one neighbor, he did not inform the neighbors of the simulated fire."
Nor was the city's communications center notified.
The reimbursement amount was based on the projected costs of the use of staff and equipment in the two incidents.
Contrary to claims in the Facebook post, Clements said, the investigation determined Gerome acted acceptably when crews were called to his home for medical assistance on April 16 and during an exercise at a local building before its demolition.
No other staff was disciplined, Clements said.
"The city of Lebanon requires impeccable ethical conduct and adherence to the highest standards of public ethics and stewardship on the part of all its employees. Any failure to meet the highest standard is unacceptable. Chief Gerome is a valued public servant, and has expressed deep regret for these incidents. He readily admitted all relevant facts related to the events described above, immediately reimbursed the city for the cost of the two incidents and co-operated fully and openly with the investigation," Clements added in the statement issued this week.
___
(c)2016 the Dayton Daily News (Dayton, Ohio)