'Rogue' photo supporting embattled Ohio chief posted to union's social media account
The image comes on the heels of an accused culture of gender and racial discrimination at the fire department under Chief Brian Byrd's reign
---
By Kaitlin Durbin
The Blade, Toledo, Ohio
TOLEDO, Ohio — In apparent solidarity with Toledo Fire Chief Brian Byrd in the wake of discrimination allegations, an altered photo of him with the phrase "I stand with Chief Byrd" has been circulating among firefighters on Facebook, but also appears to have been shared by the fire union in a "rogue" post.
"That's rogue. This is not an authorized post," Toledo Firefighters Local 92 President Dan Desmond said Wednesday. "That's not an official word from Toledo 92."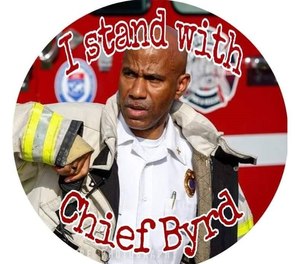 The image, which Mr. Desmond said he had not seen previously, was posted to a Facebook page titled Toledo Firefighters Local 92 at 10:26 p.m. Tuesday with the caption, "Local 92 supports our Chief 100%." Mr. Desmond said the page is not a union entity and that all official communication from him is posted to a Facebook profile named Toledo Firefighters. 
But Mr. Desmond said the same image also was shared to the union's official Twitter account at 11:33 p.m. with the words "Local 92 stands with Chief Byrd."
At least 70 firefighters were using the image as their Facebook profile picture Wednesday.
Mr. Desmond declined to comment on the post but said the photo would be removed because "there will be some membership that is not in support of this." The union represents more than 500 firefighters, EMTs, and paramedics.
The posts on both Facebook and Twitter accounts have since been taken down.
Joe Cira, a firefighter who identified himself as a union representative, said the posts were shared to the pages by the same union member. He recognized the Local 92 Facebook page as an official page for the union but agreed it does not reflect the union's position.
He said the post has been shared "widespread" on firefighters' personal social media pages in a show of support for the chief. The image is not specific to an incident but rather general approval of Chief Byrd's leadership, he said.
"It's in support for what he has done to change Toledo Fire since he has taken over," Mr. Cira said.
Chief Byrd said the image throws support behind not just himself but all the decisions made by the administration.
"It was unexpected to see that support but definitely welcome and good to see that," Chief Byrd said.
The image comes on the heels of an accused culture of gender and racial discrimination at the fire department under Chief Byrd's reign following a series of complaints by current and former firefighters and recruits.
Most recently, former fire recruit Sierra Adebisi, who was terminated from the department last month, hours before the rest of her academy class graduated, alleged that she was discriminated against based on her race and gender.
Chief Byrd denied the allegations and released records showing Ms. Adebisi was cited numerous times leading up to her termination for a variety of infractions. Some of the citations were rescinded by the chief after a grievance was filed by the union. Infractions included covering her face during class to claims she was unable to complete the physical fitness test.
"I've been a huge proponent of diversity," Chief Byrd previously told The Blade.
A male African-American recruit who was terminated from Ms. Adebisi's recruit class earlier in the process also has filed a complaint with the U.S. Equal Employment Opportunity Commission.
Last year, Major Smith III, another African-American fire recruit, claimed he was wrongfully fired and is currently suing the city over his dismissal. And in July, the OCRC found that Karen Marquardt, the department's first female assistant chief, was likely denied a promotion and later harassed because of her gender.
———
©2019 The Blade (Toledo, Ohio)
McClatchy-Tribune News Service