Texas fire department promotes first female battalion chief
U.S. Army veteran Rebecca Ackerman became the first female battalion chief in the history of the Austin Fire Department
---
By FireRescue1 Staff
AUSTIN, Texas — The Austin Fire Department promoted the first female battalion chief in their history, according to officials.
KVUE reported that U.S. Army veteran Rebecca "Becky" Ackerman is AFD's first female battalion chief, and she said the fire service runs in her blood.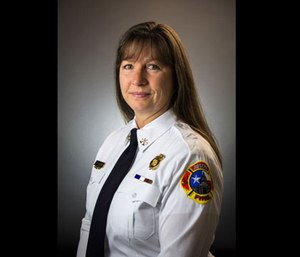 "The family business in my family is the Austin Fire Department," Chief Ackerman said.  "There's a long history of public service in my family and I wanted to continue that tradition."
Chief Ackermann said her father, Richard "Sticks" Farris, was part of the AFD for more than 29 years and earned the department's first ever Medal of Valor. Her uncle, Dennis Farris, recently retired from the department after 32 years. Her brother, Dwayne Farris, is the last civilian dispatcher on the AFD staff.
"After spending the past two decades gaining the necessary experience, I decided earlier this year that the time was right for me to sit for the battalion chief's exam and assessment center," Chief Ackerman said. "I'm beyond excited and thrilled to have achieved this goal. I'm grateful to Chief Kerr for the faith she has entrusted to me by promoting me to this position and I look forward to the new challenges – and opportunities – ahead."
Chief Ackermann is one of 73 female firefighters in the department, which is 7.2 percent of the fire staff. The AFD reported that the percentage is more than twice the national average.