Traumatic stress: Who counsels the fire chief?
Fire chiefs need to take care of themselves so they can better take care of their people
---
There are a number of studies, programs and videos on the effects of post-traumatic stress disorder (PTSD) on all of us in public safety. For the first time, police officer suicides in the United States have exceeded line of duty deaths, which is also the case in firefighters. The cumulative effects of handling emergencies – especially traumatic injuries to children or to one of our own – are among the leading causes of PTSD in first responders.
Recently, in a span of a few hours, personnel from one station in our department responded to both a non-breathing infant and a police officer who was struck while directing traffic. Neither patient survived.
We as fire officers or chiefs know to look for a change in mood or attitude in our members after a traumatic call, and to take the time to stop in to a station just to talk to crews and see how each member is coping. For those showing some signs of delayed stress, we have help available to cope with the issues – employee assistance programs or chaplains – or just plain listening to the firefighter who needs to vent his or her frustrations, fears and grief over an emergency response.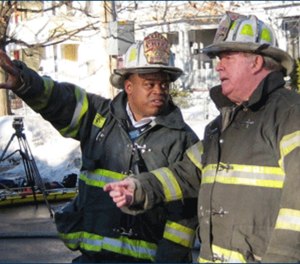 Police officer LODD was 'one of our own'
The LODD of the police officer and the death of the infant on the same night, worked by the same crew of firefighter/paramedics was especially troubling. The police officer had not only worked for our jurisdiction for over 15 years, he had also served as a fire explorer and firefighter/EMT with our department before crossing over to law enforcement. He was known by virtually every member of the fire department. He had also been honored less than six months prior to his death for assisting a blind woman from her burning apartment just prior to the arrival of the first engine company. He never stopped being one of our own.
As the funeral arrangements unfolded, my concern was whether the police chief and his senior officers had any signs of extended stress. Each one of them was putting in exhausting hours, being present at every shift change and helping the family make arrangements. He and his lieutenants were there for their police officers, but what about them? That brought me to the question, "Who is there to counsel the chief?"
Not too many years ago, I was shocked to learn of a young fire chief who took his own life. We had met by chance at a fire conference, and his department was one I had the privilege to serve with while I was in the Air Force assigned to a nearby air base. We had sat for a long time discussing how the department had grown and how the engine I had once driven and engineered was now the city's "antique" fire truck.
After his death, I spoke with another member of his fire department and asked if there had ever been any signs indicating his stress or a breaking point? There had been none. So in retrospect, I began to wonder, is the chief supposed to be so stoic that nothing is supposed to affect him or her?
Find a confidant who understands fire service stress
What is the solution? I'm certainly not an expert, but it seems to me that every chief or senior fire officer needs a confidant – someone they trust explicitly – to share their trials, concerns, triumphs and failures with without judgment, who is capable of sage advice when the situation calls for it.
Who is that person for you? It could be your spouse, a close friend, another chief, a chaplain, clergy member or a trained professional counselor – anyone you unequivocally trust who also understands the stressors of the fire service. That person needs to be your barometer that can observe, frankly discuss and advise you.
I've had several such mentors, confidants and advisors during my career, and at the same time, I've been the person others have come to on several occasions. It's up to you, but my advice is to find that individual and build your trust in him or her before you really need them. Talking things through when you need to clear your head of doubts or fears is one of the best ways to avoid PTSD, but – equally as important – is to continue your solid leadership in a department that looks to you for guidance.
Stay safe.