Va. firefighter-paramedic found dead was a victim of bullying
Chief Richard Bowers said he is looking into the matter and that his department will not tolerate bullying of any kind
---
MADISON COUNTY, Va. — A medical examiner announced Friday that Nicole Mittendorff, the missing Fairfax County Fire and Rescue firefighter, died by suicide-hanging.
WJLA.com reported that the news comes on the heels of concerns that she was a victim of bullying. Fire Chief Richard Bowers issued a statement regarding Nicole Mittendorff.
"I would like to take a minute to address the local web forum posts that so many of you have been discussing regarding firefighter Nicole Mittendorff. We at Fairfax Fire and Rescue are aware of the posts and are looking into the matter. I assure you that my department cannot and will not tolerate bullying of any kind. At this time, we are respecting the privacy of firefighter-paramedic Mittendorff's family, and providing support to the men and women of the Fairfax County Fire and Rescue Department who are grieving under these challenging circumstances. We will thoroughly investigate this matter and take any appropriate actions needed. However, right now we ask that we be allowed to grieve the loss of one of our own."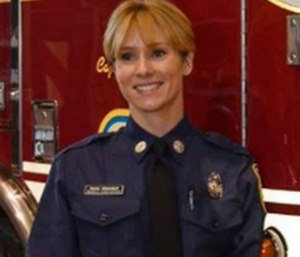 Police found a suicide note in Mittendorff's car Thursday afternoon after discovering her body, according to the report. The details of that suicide note remain unknown.
In the wake of her death, some people are expressing outrage over sexist online comments about Mittendorff and other Fairfax County female firefighters.
"It was pretty raunchy. It was raunchy. It was offensive. It was disrespectful. It was ridiculing," said retired federal government worker and Fairfax County resident Jane McKinley. "I was alarmed and wanted to let the public know that there was this blog out there that was defaming these female firefighters and medics, not only Nicole but others as well."
The postings appear to be from fellow firefighters, though they are anonymous, WUSA9.com reported.
It's not known if Mittendorff saw the postings, but McKinley said she's concerned the cyber-bulling may have played a role in her death.
The International Association of Women in Fire and Emergency Services released the following statement after more details surfaced about Mittendorff's death. 
"Nicole's death adds to the rapidly climbing number of suicides in the fire service. Firefighter Behavioral Health Alliance has reported 116 firefighters in the United States committed suicide in 2015. Behavioral health struggles in the fire service are often overlooked, but it affects every EMS and fire department in one form or another. We encourage every department to reach out to the Firefighter Behavioral Health Alliance or the National Volunteer Fire Council's Share the Load program for resources to help reduce these tragic statistics."
Fairfax County Fire and Rescue asked the public to respect the family's privacy at this time.