Walkthrough gives IC unique insight in plastics factory fire
Incident preplanning, water supply knowledge and mutual aid agreements were key to success in abandoned factory fire at the top of a mountain in Cumberland, Md.
---
At 1:12 a.m., July 25, 2018, the Allegany County Maryland 911 center received one of those dreaded calls – a plastics factory on fire. With multiple calls received, the working fire dispatch was added and, recognizing the potential for significant water supply issues, a tanker task-force was added at 1:15 a.m.
It would be 10 hours before all units would clear this difficult scene. According to the LaVale Volunteer Fire Chief Ryan Reichert, the rubble continued to smolder for three days and was visited daily by first-due companies to ensure containment.
So what makes this plastics factory any different from the next one? Aside from the fact that units from five counties in Maryland, Pennsylvania and West Virginia all ran the call, Artmor Plastics is located at the very top of Wills Mountain, 2,000 feet above the valley floor. There is no water supply, and the road has been poorly maintained over the years. Some time ago, the original owner passed away, and both the facility and the business fell into states of disrepair. Local homeless populations had set up inside the facility, which may have contributed to the origin – although no official cause has been determined at this time.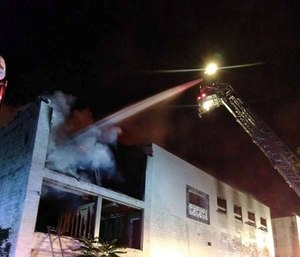 Inside intel proves valuable in plastics factory fire
Chief Reichart and Allegany County Emergency Manager Dick Devore report that first arriving firefighters were confronted with multiple-story connected buildings areas, with fire consuming a portion of a 15,000 square foot area. Those units reported initial entry like a "ghost town," with machinery and parts left like people had been working on them yesterday ... although the plant has been closed down for quite some time.
Ten engines, 12 tankers, four heavy-duty rescue squads, two ladder trucks, ambulance and additional support and fill-in units were required to battle this incident. Tanker shuttles were set up to a hydrant down the mountain, the route containing several switch backs and severely rutted roads.
Units had fought a similar but smaller fire at the facility a few weeks back, providing some valuable intel for this new firefight. In fact, firefighters had returned to walk through the facility after the first fire, to pre-plan any potential additional incidents. As the fire had burned unchecked, and with the walkthrough knowledge in-hand, the incident commander ordered a pretty quick evacuation of the building during this fire.
Top takeaways on abandoned factory fire
Incident preplanning can be critical for successful firefight operations, especially in unique or difficult environments. The recent walkthroughs before this incident were instrumental in a safer outcome.
Rural water supply operations are no joke. Know your area and practice, practice, practice to make the difference between a handling a difficult situation smoothly, or a out-of-control and chaotic situation.
Having mutual aid agreements in all necessary areas can often be minimized or overlooked. In areas where multiple counties and states adjoin, ensuring there are written and agreed upon mutual aid agreements will speed up resource deployment and help improve firefighter safety.