Wis. fire chief to retire after 34 years with department
Troy Gudie was instrumental in establishing the first local high school fire and EMS academy
---
By Chloe Hilles
La Crosse Tribune
ONALASKA, Wis. — For three decades, Troy Gudie has worked to keep families, children and senior citizens safe as an Onalaska firefighter and eventually the department's fire chief.
In May, Gudie will hang up his leatherhead as he retires to move into being a full-time grandfather. Gudie is celebrating 34 years in the service.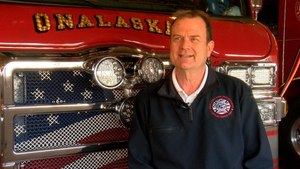 At the encouragement of his wife, Gudie started as a volunteer firefighter in 1989.
"She told me, 'You're really good with people and you enjoy working with people, I think you'd make a really good firefighter,'" Gudie recounted.
Four years later in 1993, he was hired as the first full-time firefighter for the city of Onalaska. For 17 years, he served as the assistant fire chief and was promoted to fire chief in 2020.
Gudie has worn many hats in the department and was instrumental in establishing the first local high school Fire and EMS Academy, creating an agreement with the town of Onalaska to provide fire protection services and teaching fire safety courses to the community.
Gudie said keeping children, families and senior citizens safe from fire through fire safety lessons has been one of the most gratifying parts of the job.
"It's so rewarding when you're teaching those children about fire safety at such a young age," he said.
One summer, Gudie learned about clowning at the Clown Camp and created a fire safety clown character. Gudie would dress up, juggle and spin plates — all in the name of fire safety. Every trick had a lesson in fire safety attached to it.
"That was a pretty special time, it was so much fun to interact with the kids," Gudie said.
Gudie also helped develop a relationship with Western Technical College to establish a Fire and Emergency Medical Service Academy for high school seniors. Students spend two semesters getting certified as a firefighter and emergency medical responder.
The second class of students will graduate later this year. Gudie said they've seen a "really good" success rate, with many students joining a local fire department or going into the fire medic program at Western.
Local fire departments have struggled to fill positions, and Gudie said the high school program has been impactful in filling that void. He has also seen similar programs start up in other areas of the state.
In his retirement, Gudie looks forward to spending time with his family, especially his two grandchildren, and enjoying a summer of fishing.
"I know (the department) will continue to provide that high level of service that our community has known to expect from the Onalaska Fire Department," Gudie said. "They're just a great time and it makes me feel really good to be able to move on and give them opportunities to move up in leadership roles."
The city of Onalaska will begin a search for a new fire chief in the coming weeks.
___
(c)2023 the La Crosse Tribune (La Crosse, Wis.)
Visit the La Crosse Tribune (La Crosse, Wis.) at www.lacrossetribune.com
Distributed by Tribune Content Agency, LLC.
McClatchy-Tribune News Service