Wyo. mayor-elect plans to replace city's fire, police chiefs
The heads of Cheyenne Fire Rescue and the Cheyenne Police Department are expected to step down when Patrick Collins takes office as mayor on Jan. 4
---
Margaret Austin
Wyoming Tribune-Eagle, Cheyenne
CHEYENNE, Wyo. — When Mayor-elect Patrick Collins takes office on Jan. 4, he will begin a search for new chiefs for the Cheyenne Police Department and Cheyenne Fire Rescue.
At that point, CPD Chief Brian Kozak and CFR Chief Greg Hoggatt will step down, and Collins plans to appoint interim chiefs until their replacements are found.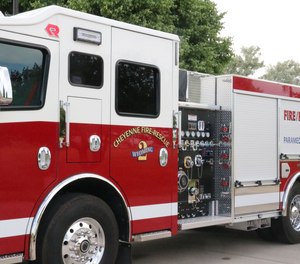 "I felt that it would be in the best interest of the city and my administration to have a fresh perspective going forward," Collins said Monday.
With plans to keep the rest of the city department heads on board, Collins thanked Chief Kozak and Chief Hoggatt for their service to the city.
In looking for their replacements, Collins said he'll form a committee with first responders from both departments to help find chiefs to lead both groups of first responders in a different direction.
"Then, we'll start a nationwide search, and we'll find the chief for both the fire department and police department. I'm looking forward to that process," Collins said, noting that he'd rather "work through an interim and find the perfect chief than to hire somebody right away."
As for qualities he's looking for in new chiefs, Collins said a fresh perspective is one of the top priorities, and that the committee would identify additional qualities, traits or skills they hope to find.
Hoggatt was chosen as fire chief by Mayor Marian Orr in 2017 after three decades of firefighting experience in Florida. Kozak became Cheyenne's police chief in 2010, making him the longest-serving chief in agency history.
Orr has been a vocal supporter of both chiefs throughout her tenure as mayor, and voiced her displeasure at Collins' decision, saying it was "unsettling" to think the city would go without leadership in public safety, particularly during the COVID-19 pandemic.
"How sad that public safety is at the whim of politics," Orr said Monday.
___
(c)2020 Wyoming Tribune-Eagle (Cheyenne, Wyo.)
McClatchy-Tribune News Service