Your weakest link: 6 ways to strengthen the chain
Weak links negatively impact our ability to properly serve our community as "superior servants"
---
Have you ever watched someone trying to do something and said or wondered, "How silly is that, just do [this or that]"? Sure you have!
Much like people lament, "When I leave, the fire department will go to hell in a hand basket," human nature tends to convince us that we are the only ones who can accomplish what someone else cannot. Of course, our fire service and our democracy has repeatedly proven that no one individual holds THE key to success or failure. Regardless, people feel they are the expert who knows all, and I'm confident you could easily find countless "social media chiefs" opining all over the internet today about how to get "it" done right.
Impact on the higher calling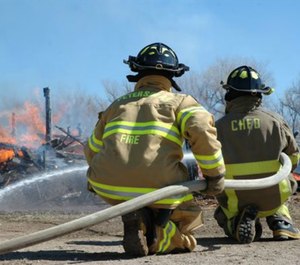 The adage "you're only as strong as your weakest link" is certainly appropriate, but I suggest instead that you're only as weak as the last mistake you fixed.
While we as a fire service are not infallible, we must recognize that we have a superior function and responsibility. That superiority is NOT about pay, race, gender, locale or some other status, demographic or geographic artificiality, but rather about a higher calling. I speak not of a "Superman complex" but of a "servant expectation."
It is no secret that what we consider normal acts of business are, in many cases, considered acts of heroism by those we rescue—no more a secret than the failures we consider blips on a radar that become micromanaged analytics of the social media chiefs.
Maintaining a superior-servant nature while overcoming the weak links can be a daily balancing act. There are times when the dynamic nature of our business means we must overcome our weakest link before we properly serve our community. In the midst of our chaotic frenzy, unlike a football game, we cannot call a timeout to regroup, at least not without consequences. So, how can we strengthen our weak links?
6 ways to strengthen the chain
1. Recognize we are a team
Recognize that everyone (including you and I) has something to learn, and everyone has something to contribute. It is critical that everyone is provided the opportunity to succeed. Whether it's contributing or receiving, we are in this together and will succeed quicker and more effectively as a team rather than as individuals.
2. Build up people on the team
Use opportunities of weakness to build up, not tear down. Once you're out here, it isn't bootcamp. As chiefs, we should use every opportunity possible to build up our people, to point them in the direction of new material, ideas, and ways of doing business, and to listen to what they have to say. Just because you're chief doesn't mean you corner the market on "how to do it."
3. Train and develop your people
After all, you're ultimately training your replacement, who's likely somewhere in your circle. Make and take opportunities to learn and teach on the street, in the station, at a conference, online or at an academy. Classroom and course work is critical, but to me, training and development is less about a degree or a certification and more about competency, proficiency and efficiency.
4. Get it right the first time
"Measure twice, cut once." This sage advice from the world of carpentry can be applied to much of what we do. Too many times we spin wheels unnecessarily. (I do recognize that there are times, usually involving political realities, where our wheels spin necessarily.) I have been at fault as much as anyone else from having blinders to an idea,  not so much about "my idea" but about wanting to "get it done now." Patience and confidence are not mutually exclusive, yet they are mutually beneficial to getting "it" right the first time.
5. Train to be competent, proficient and efficient
Build requirements into your ranks, not just options, then train, train, train. It's a tired argument to say, "We're just volunteers, we don't have time to train" or "We're the largest and busiest, we don't have to train." Much like we talk about "progressive discipline," we must talk about "progressive development." There are countless opportunities for growth—using the NFPA and ProBoard paradigms as the example, FF1, FF2, Fire Inspector, FO1, FO2, FO3, FO4 (not the only choices, just the examples). Remember though, the paper and the certificate is no substitution for competency, proficiency and efficiency.
6. Assess everyone realistically, practically
Recognize when it's time to cut links and recouple others. This is NOT about giving up on people; this is about realism and practicality. Not everyone is cut out to be a firefighter or paramedic, just as not everyone is cut out to be a police officer or an undertaker. Sometimes people link to the wrong chain and can't or won't recognize it on their own. Be the boss, not the friend.
Expectations and opportunities for improvement
I've often talked about the screaming firefighter on the scene of the fully involved building fire. Screaming at the top of their lungs for what? For the fire you were called to go to! People have used the comparison of the trash truck crew coming around the corner to an unexpected huge pile of trash. I have yet to see a video of a trash truck crew screaming about the trash. That's what they went for!
How will you strengthen your weak links?