Bail out! Staffing solutions help us minimize risks
We can't all have FDNY-level staffing, but we must find staffing solutions to enhance fireground operations and survival
---
If you follow fire service media, even social media, you've likely seen several videos recently showing firefighters experiencing some pretty close calls – calls where they had to bail out. In all cases, the firefighters are fine; they got out and their bunker gear did its job. 
Before I go further, know this: These thoughts are not about the firefighters getting in a jam and having to bail. It happened and they are safe. These thoughts are about what else we need when conditions turn ugly on the fireground and YOU HAVE TO BAIL.
Black Sunday bailout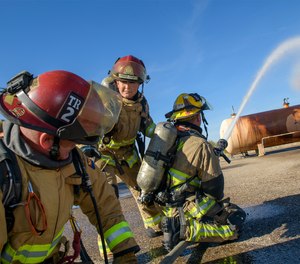 I would be remiss if I failed to mention the Lt. Joseph P. DiBernardo Memorial Foundation whose mission is to provide fire departments with safety training and personal life safety systems. Joey was a friend of mine, as is his dad, retired FDNY Deputy Chief Joe "Chief D" DiBernardo. 
Chief D and his organization know the issues of firefighter bailout all too well. They created the foundation following FDNY's Black Sunday on Jan. 23, 2005, when three firefighters lost their lives and three others suffered life-changing injuries – all because they had no way out but a 5th-story window. Lt. Joey DiBernardo lived in great pain every day of his life from all his injuries and passed away on Nov. 22, 2011, as a result of the injuries suffered on Black Sunday.
The foundation awards grants for personal safety bailout systems for firefighters, and offers seminars taught by world-class instructors. Please check out their wonderful work, all focused on all of us getting out alive.
[Read more: Black Sunday: Reflecting on the fires that changed FDNY]
FDNY – and the rest of us
Refocusing on each of our departments, there are numerous factors that can lead to the need to bail out. But there is one critical factor that can almost always help us limit the chance of things getting ugly – and even if they do, giving us a better chance to make it. That is STAFFING.
You can watch all the FDNY or other big-city videos you want and then want to act like that, but the fact of the matter is that most departments don't have the staffing (or training) of the FDNY. Actually, NO departments have that level of staffing or training.
Now for you haters out there, relax, the FDNY isn't perfect. However, they do the job more than any other department, and their training programs (and pre-qualifications to get hired or promoted) for every rank far exceed almost every other department. So, they must be doing something right – and it's worth paying attention to.
The one area where I want to compare yours/mine/our departments with the FDNY is staffing. Why? Because if you have the correct number of trained/qualified members on your first alarm, and subsequent alarms, just by the numbers, you have a better chance of minimizing the chance of a close call, and if one occurs, better managing the reaction to that while also dealing with the initial fire emergency.
And look, large departments can and have suffered tragedies under the best staffing circumstances. So what does that mean for "normal"-sized departments? That it's time to train (with your mutual-aid partners) and figure out your staffing needs based upon your response area. 
In-house staffing solutions
"But my fire department doesn't have enough staffing!"
Stop. Look, it's no secret that we would all love to have 15 firefighters on an engine, 20 on a truck and 30-40 on a rescue squad, just in case we need all those people. But that is NOT going to happen in your or anyone else's lifetime. 
If you and your department leadership are serious about staffing and are willing to set aside our egos, the solution is often accessible. Of course, if you are in a rural area, and there are 30-40 miles between mutual-aid departments, you have a serious challenge. However, in a suburban area or urban area, solutions are very reachable. 
First, your department should provide in-house staffing that meets NFPA, ISO and related standards – in other words, whatever your local community tax base can sustain.
For the volunteer side, there's no difference; you're just not paying them. If you have a building that has a sign that says FIRE DEPARTMENT, then you have an expectation to send qualified help when the people call 911.
My point is that to be a real fire department, you need to provide some level of basic service as well as the ability to provide some level of mutual aid, so you don't become a department that relies on moochual aid, meaning you take but don't or can't give.
By the numbers
No one can claim that good, qualified and adequate staffing won't help you minimize the impact of a bailout situation or react to one. If the staffing isn't all your agency, then include mutual aid, automatically.
First-alarm assignments allow you to do the following, pretty much simultaneously:
Perform a 360 size-up and have an IC throughout
Establish two sources of water
Pump the apparatus
Stretch three 1¾ inch handlines
Force entry
Throw ladders
Search each floor simultaneously; rescue/remove victims
Manage ventilation
Handle personnel accountability
Have at least two command/division supervisors
Basically you need between 20-25 qualified firefighters/officers on a first-alarm small single-family dwelling. That will generally allow you to manage the initial problem (the fire) and, if something goes wrong, have some staffing to minimize the situation or help those firefighters who are in trouble. 
My above numbers aren't perfect and not guaranteed, but they're pretty close. Plus, it beats the hell out of watching your favorite FDNY video (note their staffing) and then your department getting a run – and on that run, having six of your members as your first-alarm assignment, knowing that the initial fire problem can barely (if at all) be handled and pretending that your staffing could actually any members could get in trouble interior.
First-alarm staffing – the problem that can quite often be solved – when we really want to solve the problem.